**Update as of Aug. 9 at midnight: The Los Angeles to Vancouver has increased from $21 to $26.57 CAD including tax.*
Flair Airlines is offering another massive sale on flights departing out of the Lower Mainland and across Canada.
Metro Vancouverites looking to catch cheap flights in 2022 still have several options to choose from, depending on their destination and the flexibility of their travel dates.
The discount carrier is offering 40 per cent off all of its base fares as part of its "Fallin' for lower fares" sale that ends at 10:59 p.m. on Thursday (Aug. 4). The sale is valid for travel between Sept. 6 and Nov. 29 but cannot be booked on Thanksgiving weekend from Oct. 7 to Oct. 11.
Simply enter the promotional code TAKEOFF40 to take advantage of the offering.
For example, folks looking to travel back east can take advantage of airfare that costs under $69 CAD for a one-way ticket from Vancouver to Toronto this fall.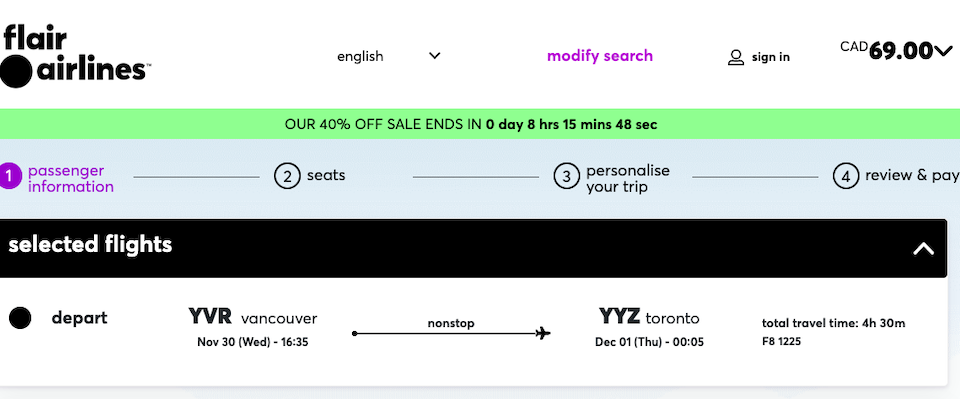 Locals looking to fly south of the border can also visit California for less, even for a ticket departing this month. A flight that departs on Sunday (Aug. 28) costs $89.01 CAD per person including all taxes and fees before the discount.

If you want to fly down to Los Angeles' Burbank airport you can expect to pay about the same, however, return flights start at strikingly low prices. For example, one ticket shows a direct flight to Vancouver on Sept. 15 for only $21.53 CAD including all taxes and fees.

You can book your sale tickets with Flair Airlines.
Flights to Vancouver: What locals need to know right now
Canada dropped its coronavirus testing requirement to enter the country and some vaccine requirements but many health restrictions remain in place following the federal government's announcement, particularly for cruising.