Vancouverites looking for a life-changing travel experience may want to check out this inspired oceanic itinerary — but they better be prepared to put down some serious cash and devote a fair chunk of time, too.
Operating in polar waters since 1893, Hurtigruten Expeditions offers some of the most awe-inspiring options for people looking to sail into waters less travelled.
The cruises are considered sustainable and knowledge-centred, allowing you to discover the world up-close and personal with the help of experts.
Described as the "Ultimate Bucket List Cruise," the 94-day Pole to Pole Adventure takes guests from Vancouver on a journey to Earth's southernmost continent and numerous exciting destinations along the way.
After spending the night in Vancouver on Aug. 3, 2023, passengers will sail through the scenic Inside Passage up to Alaska before making several stops in the popular state. Next, the ship sails through the Bering Strait, where guests can spot up to 30 species of seabirds.
"Passing through the Bering Strait, we'll have Russia to the west of us and the USA to the east. This is also the International Date Line, meaning we'll have 'tomorrow' on our left and 'today' to the right. At this point we'll also pass into the Arctic Circle," explains the cruise company.
After cruising through the Northwest Passage, the ship heads to Baffin Bay to Greenland and Atlantic Canada. After that, the itinerary includes stopping in the eastern United States, such as Bar Harbour and Boston.
The ship makes a stop in Miami before making its way south to Belize, Colombia, Nicaragua, Panama, and Colón. After cruising through the Panama Canal, guests will enjoy a couple of stops in Ecuador before making several stops in Chile.
Finally, passengers will discover the magic of Antarctica: "Nowhere else on Earth can we find anywhere that compares to this otherworldly landscape of snow and ice," says Hurtigruten.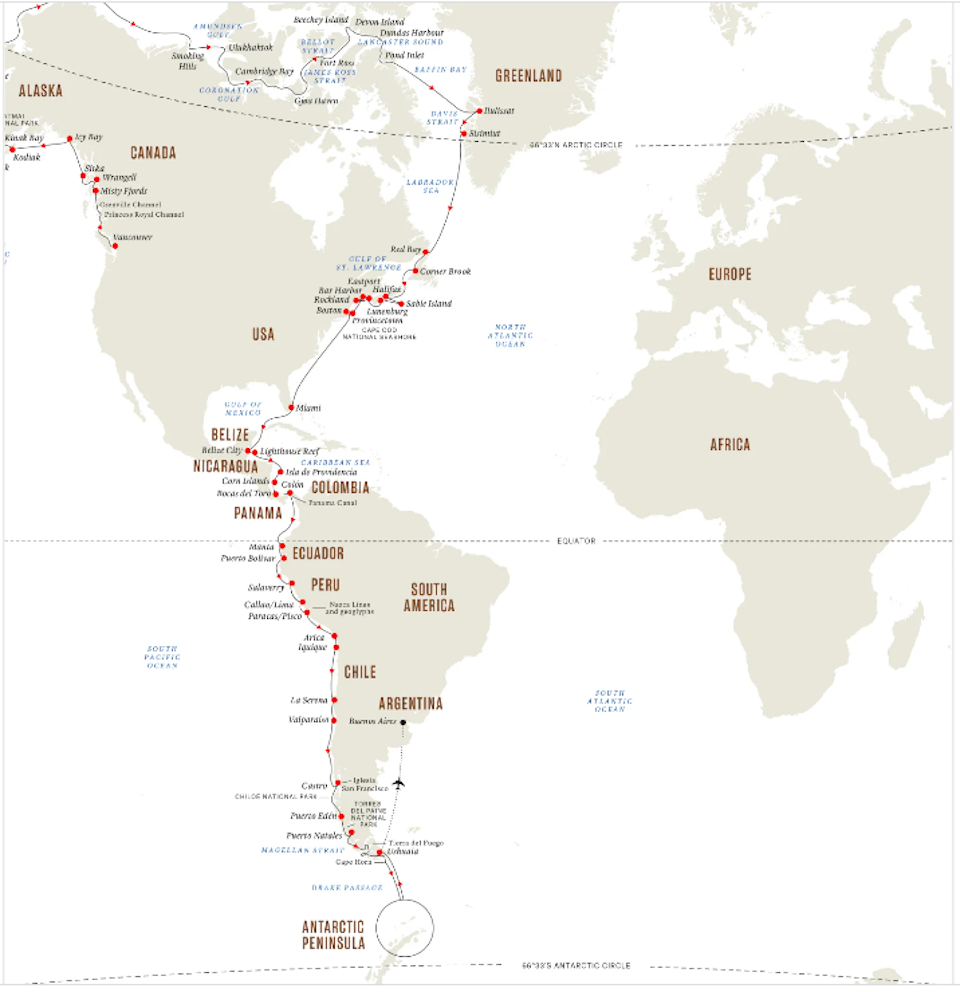 Cruise from Vancouver to Antarctica with Hurtigruten: Breaking down the cost
Guests will sail on the MS Roald Amundsen, which is the world's first hybrid-powered expedition ship, named after the first explorer to successfully reach both the North and South Poles.
The Polar Outside cabins are generally 215 square feet and located on the middle deck, with windows and flexible sleeping arrangements. The total cost for two people comes to $115,360 USD, which works out to approximately $148,259.52 CAD. The total per person price is $57,680 USD or $74,129.76 CAD.
While that might seem like a jaw-dropping price, it also includes flights, accommodation, onboard activities, and landing activities. You will get an economy-class flight between Ushuaia and Buenos Aires, as well as an overnight stay in Vancouver with breakfast at the start of the cruise.
For a higher price, guests can sail in an Arctic Superior cabin, which comes with a balcony and some extra space. Folks looking to sail in ultimate style can stay in large, well-appointed Expedition Suites that come complete with expansive windows and most have balconies. Some have a private outdoor hot tub.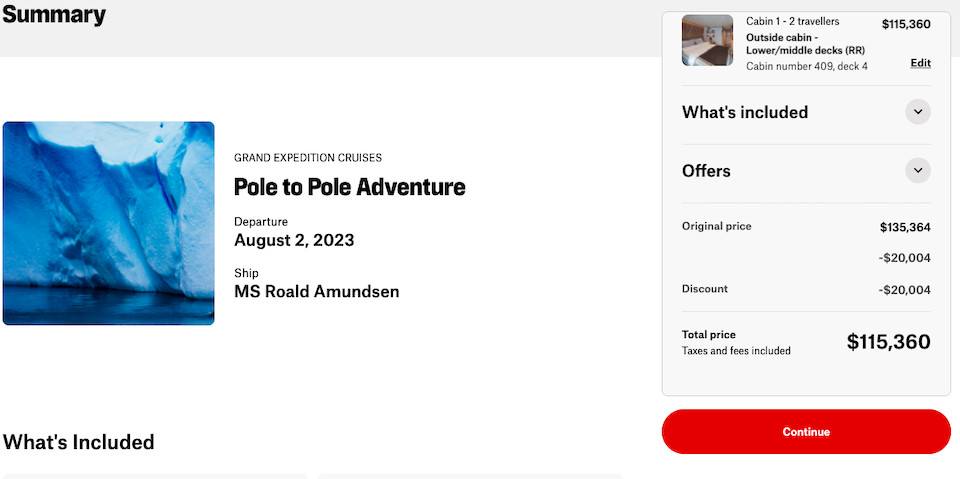 Looking for some more affordable options? Check out this cruise that visits magical Hawaii at a steal and sails round-trip Vancouver, too. In other words, you never have to catch a flight: you can just stroll onto the ship at Canada Place and stroll off upon your return home.
If you are looking to try cruising but don't to commit to a great deal of time, a repositioning cruise from Vancouver to San Francisco costs under $500 CAD.
I recently sailed on the Koningsdam's first voyage to Vancouver. Read my experience sailing from San Diego in April.
All cruise passengers must enter their travel and personal information into the ArriveCAN app prior to disembarkation in Vancouver. Find out more information about the process with V.I.A.'s tutorial.