Air Canada has dropped prices on flights connecting "Raincouver" and paradise.
Departing this spring, Metro Vancouverites can enjoy round-trip, direct flights to Kahului, Maui for under $300 return on several dates.
While the weather starts to warm up in May in Vancouver, the following month is known not-so-affectionately as "Juneuary" - a month that often sees stretches of warm weather interspersed with cool, showery days.
Folks looking to avoid torrential downpours and falling temperatures can soar over the Pacific courtesy of Canada's largest airline to Maui at a steal right now. A quick search on Google Flights' price calendar reveals numerous dates starting around May 24 that cost under $300 for return airfares.
To use the calendar, simply enter Vancouver International Airport (YVR) in the "coming from?" field and then enter Kahului Airport (OGG) as the "where to?" From there, you'll be prompted to enter your travel dates but you'll be able to see pricing on the drop-down calendar. Choose the cheapest option that works for your schedule as a departing date and then match it with the cheapest return date option.
For example, a flight that departs Vancouver on Wednesday, May 24, and returns a couple of weeks later from Maui on Wednesday, June 7 costs $296.67 including all taxes and fees.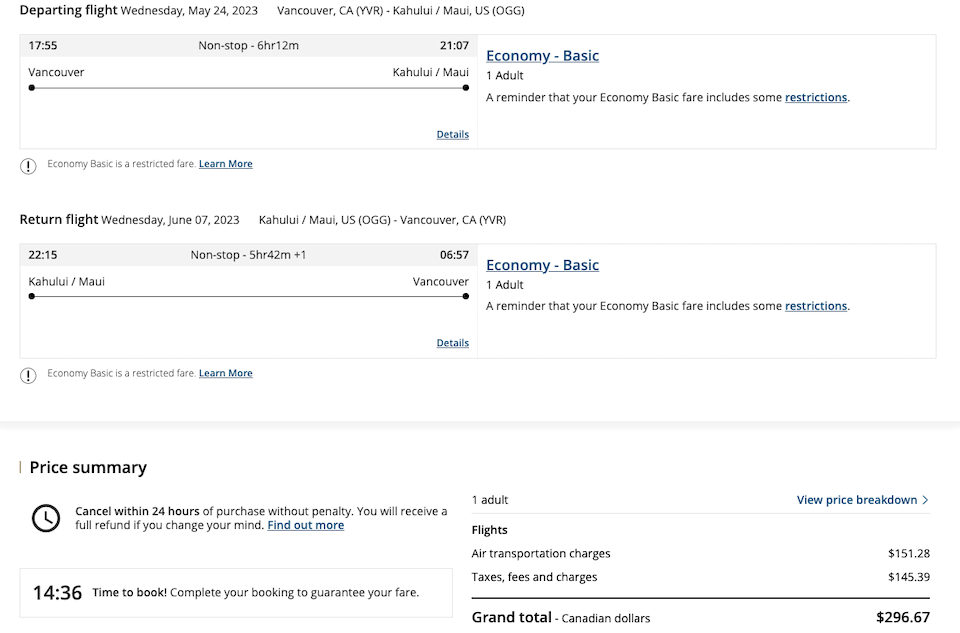 Enjoy Vancouver flights to the Hawaiian Islands at a steal with Air Canada
Maui is also one of the quietest and most beautiful islands with numerous activities to enjoy. That said, several of the islands offer a range of natural gems to explore and a variety of places to dine, shop, and catch live shows. From the Mauna Kea Summit to the massive, approachable populations of manta rays, the rich history of Lahaina to the stunning Waikiki Beach, the entire state oozes tropical beauty.
If you want to relax in a paradise closer to home, this jaw-dropping island features stunning aquamarine waters and is known as the "Little Hawaii of B.C."
Book your flight with Air Canada online.