A new Canadian company says it can help travellers get the money they are owed from airlines for flight delays and cancellations.
Canada's first air passenger rights regime, the Air Passenger Protection Regulations (APPR), was implemented in 2019. But these rules have been heavily criticized over the pandemic since airlines were able to avoid paying compensation due to things like safety issues.
For several years, Canadian air passengers have faced an uphill battle trying to navigate the system, often facing glacial waits for refunds or compensation.
Airfairness, a new company that officially launched on Monday, May 29, promises a "seamless and stress-free" way for Canadians to recoup losses on air travel.
CEO John Marzo says the company aims to inform passengers about their rights and give them "a fair fighting chance," noting airlines have "control over every aspect, from flight data to decision-making, which often seems unjust."
The company's team has extensive knowledge of "global aviation standards and up-to-date flight logs," as well as the APPR.
Marzo tells V.I.A. there are numerous companies like Airfairness in the European Union providing travellers with a convenient way to get money back following flights and is the first of its kind in Canada.
"The data shows that since Vancouver's airport is the second largest behind Toronto Pearson, there really is a large opportunity to help the community become more aware of their rights and allow them to collect the compensation they're entitled to," he says.
The company has been operating on an ad hoc basis in Canada since 2022 and says it has "already processed numerous successful claims through word of mouth and referrals."
On a trip to Jamaica, a couple of passengers were offered $10 food vouchers instead of the $400 per passenger for the three-hour and 50-minute delay that they were entitled to. Airfairness was able to help them successfully obtain full compensation for their entire parties, according to a press release.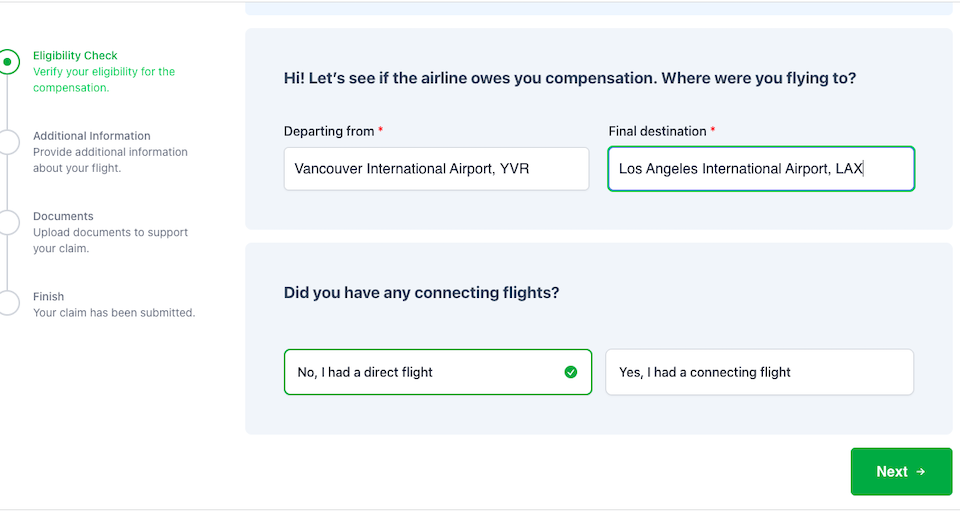 Vancouverites face long waits and challenges for flight refunds
While Airfairness says it will offer travellers vital information about their rights and help them get refunds quicker, they may still face difficulties getting refunds under the current air passenger rights regime.
In the European Union, airlines can only avoid paying compensation if they prove the existence of an extraordinary circumstance. They must also pay air passengers for "flight delays and cancellations caused by maintenance issues," which is something Canadian carriers could avoid, Gábor Lukács, the founder of the Air Passenger Rights group, told V.I.A. in a previous interview.
Airlines in the EU are also on the hook for proving the existence of an "extraordinary circumstance" and must provide passengers who are stranded in a destination with meals and accommodation, regardless of the circumstances.
John Lawford, executive director of the Public Interest Advocacy Centre (PIAC), echoed this sentiment, noting that Canada's current charter currently offers too much room for interpretation by airlines.
Given the immense backlog of complaints to the Canadian Transportation Agency, Canadian air passengers have also been forced to wait significant periods of time to receive compensation, and, in many cases, they do not receive the money they are owed.
"You might not get anything. You might be denied depending on if the airline can prove this is a safety issue or if it's outside their control," Lawford said in a previous interview.
Since the European rules are straightforward, companies have popped up that offer to process claims on behalf of air passengers because they know exactly how much money will be paid and when that will happen, Lawford said.
In Europe, if your flight is late or cancelled, "you get certain rights like food and lodging and that sort of thing, but you also get your money back, plus the inconvenience payment," he explained.
Lawford cites some rare exemptions, like volcanic explosions or earthquakes.
Find out why it might get harder for Canadians to get refunds for flights if Canada implements its proposed changes to the air passenger rights charter.