Vancouverites can escape to the Hawaiian Islands for a steal right now, with low-cost fares to multiple cities departing this fall and winter.
The cheapest deals depart right away, with round-trip, direct airfare from Vancouver International Airport (YVR) to the Kahului Airport International Airport in Maui for under $350 CAD on several dates in October.
Round-trip, direct service from YVR to Kona International Airport on Hawaii's "big island" is also under $350 CAD on multiple dates toward the end of October. As of this writing, for example, Google flights show flights departing on Oct. 24 and returning on Oct. 31 for $347 CAD total including tax with WestJet Airlines and Delta. However, the tickets need to be booked separately to take advantage of the low-cost option.

Flights from Vancouver to Honolulu: Book now for early 2023
Locals looking to head to Hawaii's most popular tourist city, Honolulu, need to exercise a little bit of patience to take advantage of the ultra-low fares. But there is a wide range of dates to choose from for under $400 CAD if they do. Starting in January 2023, there are numerous date combinations that cost under $390 CAD return including taxes and fees.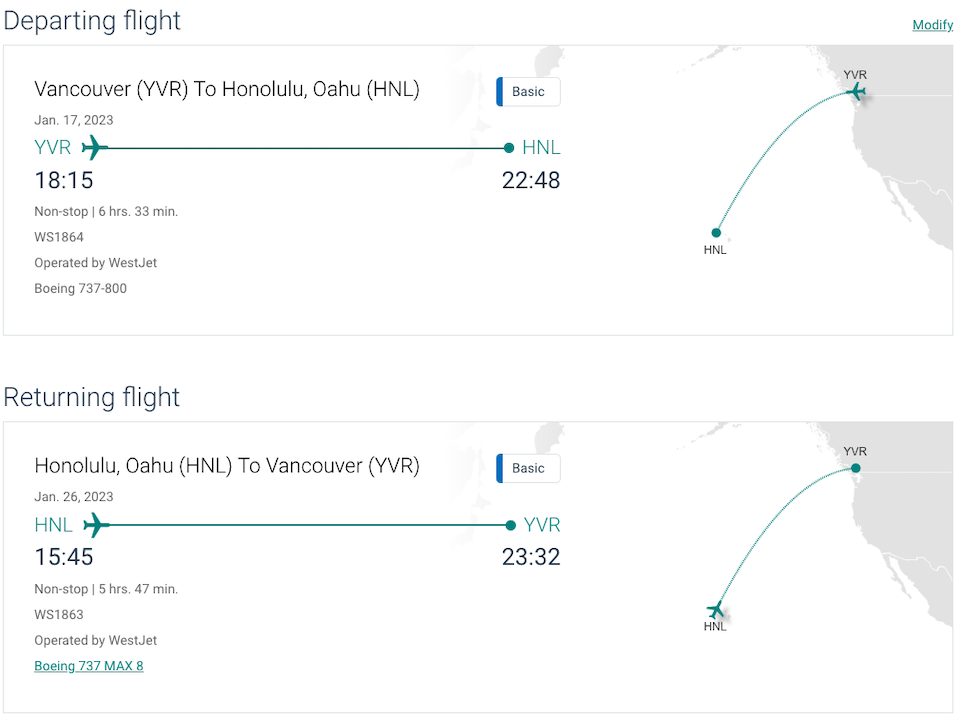 Take Vancouver flights to Honolulu and the Hawaiian Islands this winter
Not only is Honolulu famous for its breathtaking, crescent-shaped beach, but it also offers incredible nightlife, shopping and dining.
Hawaii also offers a range of natural gems to explore on each of the islands as well as many places to dine, shop, and catch live shows. From the Mauna Kea Summit to the massive, approachable populations of manta rays, the rich history of Lahaina to the stunning Waikiki Beach, the islands ooze tropical beauty.
Air passengers travelling from YVR to the United States may now reserve a place in line at security screening.