If you're looking to take advantage of an ultra-low-cost option on a premium cruise line, an upcoming sailing out of Vancouver to Japan is hard to beat.
Celebrity Cruises, a premium cruise line known for its modern, well-appointed staterooms, attentive service, and elevated cuisine, is offering a discounted fare on a cruise out of the city in September 2023.
Guests will sail on the jaw-dropping Celebrity Millenium, a five-star ship that features two swimming pools, a live theatre, renowned spa treatments, movies under the stars, a basketball court, a video arcade, a casino and much more.
The cruise departs Vancouver on Sept. 15, 2023, and spends a day at sea before stopping in Ketchikan, Alaska. After that, guests will have the opportunity to enjoy breathtaking ocean views from the luxurious vessel as they cross the International Date Line.
On Sept. 27, the cruise will stop in Sapporo, Japan, and on Sept. 28, it will visit Aomori, Japan. Finally, after another day at sea, the cruise will disembark in Tokyo, Japan on Sept. 30.
You dine on your time with Celebrity Select Dining. Choose whether you'd like to dine early, late, or enjoy flexibility with "anytime dining." The early dining time is 6 p.m. while the late dining is at 8:30 p.m.
Sail on the 14-Night Bering Sea and Japan itinerary with Celebrity Cruises from Vancouver
Date
Port
Arrive
Depart
Friday, September 15
Vancouver, BC, Canada
4:30 p.m.
Saturday, September 16
At Sea
Sunday, September 17
Ketchikan, AK
11:00 a.m.
6:00 p.m.
Monday, September 18
At Sea
Tuesday, September 19
At Sea
Wednesday, September 20
At Sea
Thursday, September 21
At Sea
Friday, September 22
Crossing International Dateline (Cruising)
Saturday, September 23
At Sea
Sunday, September 24
At Sea
Monday, September 25
At Sea
Tuesday, September 26
At Sea
Wednesday, September 27
Sapporo (Muroran), Japan
7:00 a.m.
6:00 p.m.
Thursday, September 28
Aomori, Japan
7:00 a.m.
5:00 p.m.
Friday, September 29
At Sea
Saturday, September 30
Tokyo (Yokohama), Japan
6:30 a.m.
Vancouver cruise details for Celebrity sailing to Japan
Only ocean view room categories are currently available; all of the other categories, such as the interior, verandah, and suite options, have already sold out. Given the popularity of the cruise, the final options are now more affordable, but they may not be available for long.
The ocean view rooms sleep two to four guests, have a bathroom, and are approximately 171 to 381 square feet. They feature a large porthole window and prices vary based on the location on the ship.
Celebrity offers two separate packages, one that includes drinks, basic Wifi, and tips — and one that doesn't. If you aren't a drinker or don't plan on using Wifi, it won't benefit you to get the pricier package. If you do plan on enjoying some adult beverages and surfing the web, the packages will generally make your cruise cheaper. You will have to pay tips, regardless.
The pricing for two people in the ocean view stateroom comes to $2,718 USD, which converts to roughly $3,463.49 CAD. The total per person pricing works out to approximately $1731.75 CAD including all taxes and fees. That price breaks down to about $123.70 CAD per day.
The cruise fare is currently over 50 per cent off, but Celebrity does not indicate how long they will continue the offer.
Not only does that cost include your transportation on a beautiful five-star vessel, but it also includes meals, entertainment, snacks, and lodging. The only thing it doesn't factor in is alcohol, but you may opt to purchase a drink package that can reduce the cost of your spending.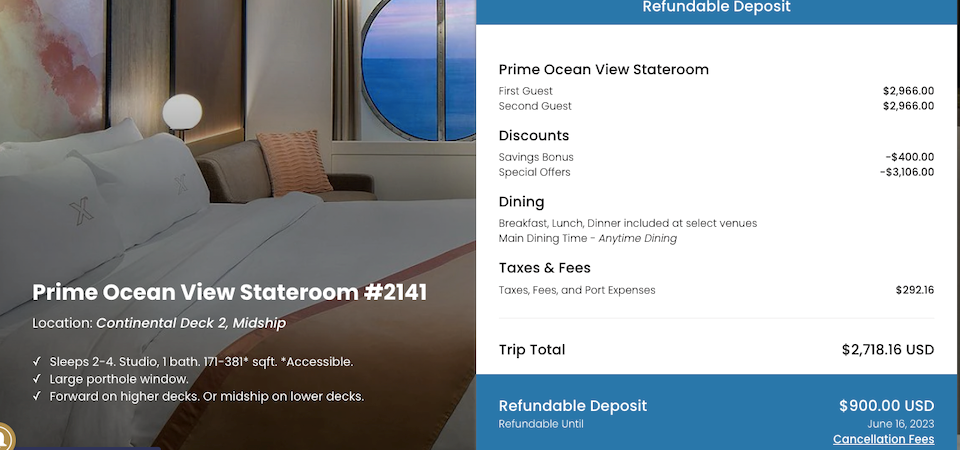 Have a look at the available rooms with Celebrity Cruises.
Looking for some more affordable options? Check out this cruise that visits magical Hawaii at a steal and sails round-trip to Vancouver, too. In other words, you never have to catch a flight: you can just stroll onto the ship at Canada Place and stroll off upon your return home.
If you are looking to try cruising but don't want to commit to a great deal of time, a repositioning cruise from Vancouver to San Francisco costs under $500 CAD.
I recently sailed on the Koningsdam's first voyage to Vancouver. Read my experience sailing from San Diego in April.
All cruise passengers must enter their travel and personal information into the ArriveCAN app prior to disembarkation in Vancouver. Find out more information about the process with V.I.A.'s tutorial.