Vancouver has a reputation for many things — and not all of them are desirable.
From soaring rental prices to its infamous "no fun city" moniker, there are at least a few reasons why many people decide to leave the city after a brief stint. But there are a myriad of draws to B.C.'s biggest city, too.
Vancouver recently ranked fourth on a list of the top 51 cities for families in Canada.
Compiled by Clever Canadian, the study looks at a variety of factors to determine the most child-friendly cities in the country, including its population, the number of families with kids, the unemployment rate, the safety index, the average household income, the average household monthly costs, the median house price, the median monthly daycare cost, the number of daycares, and the number of parks.
Quebec City took the top spot in Canada for raising a family, boasting "exceptional health care," affordable housing, and a low crime rate. The report's authors also mention its subsidized daycare centres.
Following Quebec, Ottawa was ranked the second-best city for families. Canada's capital city was praised for having "so many kid-friendly neighbourhoods" with excellent elementary and secondary schools. The report also notes that public transportation is convenient and safe, meaning many people find that they don't need to own a car.
Calgary placed third, with the report's authors highlighting its affordability, safety and the variety of green spaces and daycares to choose from. They also note that it has good schools and a host of "amusement parks, attractions, and activities for kids of all ages."
Vancouver landed fourth on the list, lauded as an ideal place for kids of all ages with plenty of outdoor and indoor activities. With interactive museums, "cool" attractions, sprawling parks and festivals, there are numerous places for families to explore. Additionally, the report notes that the city is "very safe."
| | |
| --- | --- |
| Population | 662,248 |
| No./Percentage of Families with Kids | 89,560 |
| Unemployment Rate | 4.60% |
| Safety Index/Crime Rate Index | 61.75 |
| Average Household Income | $72,585 |
| Average Household Monthly Costs: | $3,733 |
| Median House Price: | $1,235,900 |
| Median Monthly Daycare Cost | $900 |
| No. of Daycares | 159 |
| No. of Parks | 250 |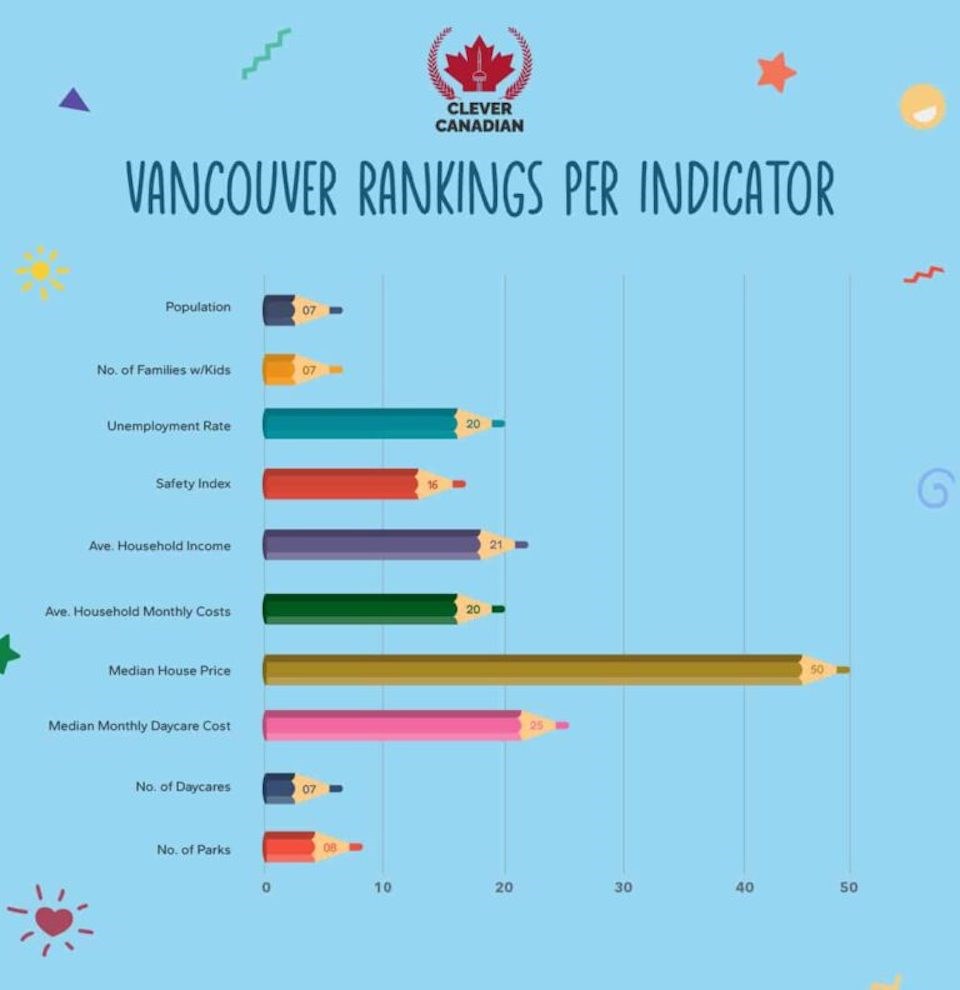 A second Alberta city, Edmonton, rounded out the top five. The city was praised for its rich history, museums, lush parks and exciting attractions.
Top 51 cities in Canada for raising families
Another B.C. city, Richmond, came sixth, while Canada's largest city, Toronto, placed seventh. Montreal followed in eighth, with Saskatoon landing in the ninth spot.
Sherbrooke, Quebec rounded out the top 10.