If the land down under is calling your name, you might want to hop on an ultra-affordable offering from Fiji Airways.
Whether you've ever wanted to watch a troop of kangaroos hop across the outback, or you simply want to enjoy the view from the iconic Sydney Opera house, Australia offers endless things to see and do.
Fiji's flagship airline currently has several low-cost Flights from Vancouver to Sydney with only one stop in Nadi, Fiji in either direction.
Additionally, a stop-over in Fiji won't drastically change the price, since Nadi is Fiji Airways' hub city. You can add the stay on the outbound flight or on the return.
For example, a flight that departs Vancouver on Monday, May 8, 2023, and returns on Monday, May 22, 2023, costs a total of $873.86 CAD including all taxes and fees.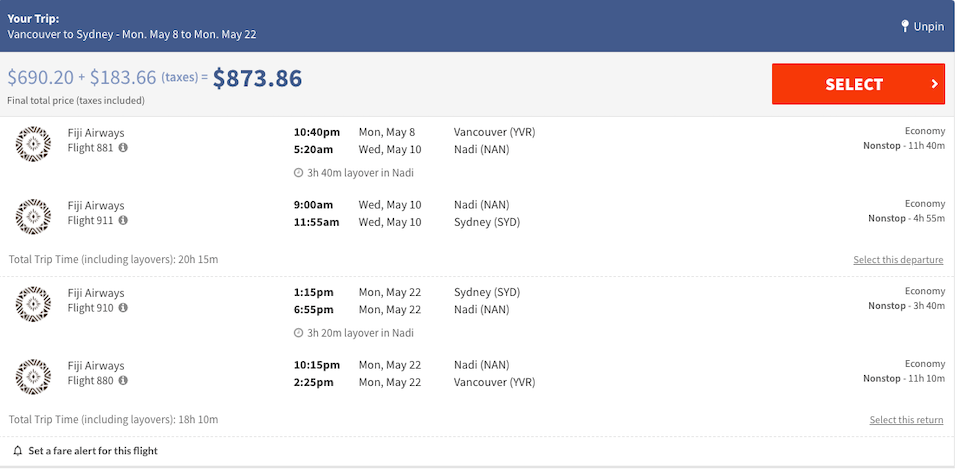 Fiji Airways, which is Fiji's national carrier, announced July 5 that it will fly directly from Nadi to YVR, starting Nov. 25, 2022.
From glistening white-sand beaches to vibrant coral reefs, and delectable eateries to endless shopping experiences, there are a number of things to see and do in Australia. Of course, the country is famous for its wildlife, and there are a variety of tours that take travellers up close and personal with some of the most fascinating creatures in the world.
You book a flight with Kayak using its online price calendar.
Flights from Vancouver: What locals need to know right now
Canada dropped its coronavirus testing requirement to enter the country and some vaccine requirements but many health restrictions remain in place following the federal government's announcement, particularly for cruising.