With TripAdvisor, Lonely Planet and a constant flow of Instagram travel content, it can be hard to find rhyme or reason to add another guidebook to the shelf.
But we have 111 reasons why Vancouverites should make a little space for this new book. Well, we don't exactly have the reasons. But the book does ...
Emons, a German publisher, has just added 111 Places in Vancouver that You Must Not Miss to its collection of travel guidebooks. Don't worry, they enlisted two locals to do all the hard work.
Dave Doroghy, an international sports marketing consultant, and Graeme Menzies, a director of marketing communications at the University of British Columbia, worked together to bring the book to life. The duo became pals while working for the Vancouver Olympic Committee in 2010, and say they used the same enthusiasm they had back then to write the book — Including their competitive spirit, when it came to "who could find the coolest places."
"Our life for a year was finding all these random, crazy things [about Vancouver] and trying to get to the bottom of them," says Doroghy over a coffee.
"It's not the regular stuff you find in a guidebook.
"It's quirky and weird."
Menzies added that they judged their choices based on whether the story made them say, "I didn't not know that!" Or, if it got them laughing.
One quirky feature is where to find Vancouver's only twin urinal. Yes, that's a urinal where two guys taking a whiz are actually facing each other. (Talk about an awkward eye contact moment.) If you haven't seen it, it's at Heritage Hall on 3102 Main Street.
"I spent way too much time researching urinals and manufacturers and sanitation," laughs Menzies.
The book features a lot of places long-term Vancouverites would know of, or have visited many times, but readers may be surprised by some of the well-researched and unusual facts included.
For instance, did you know there were hidden stones to find at the Stanley Park Sea Wall? — The stones are shaped like a hockey stick, a maple leaf, a hockey puck and a skate.
"There are millions of stones in the Sea Wall but there's four that no one knows about," says Doroghy.
"I discovered them 30 years ago and haven't told many people, but we put it in the book."
Or, could you explain why CRAB Park, is actually called CRAB Park?
And … you've probably walked past the Harbour Centre (Vancouver Lookout) a thousand times, but did you know that the first man on the moon, Neil Armstrong, officially opened the revolving building back in 1977? Armstrong even made a footprint in cement at the site, which is said to have since gone missing.
That's just a few of the stories in the guidebook.
A keen history buff and curious researcher, Menzies says he enjoyed many hours of discovering local places connected to the likes of Harry Houdini, the botanist from Captain Vancouver's Ship, royalty from Hollywood's golden era, rock stars, hippies and tycoons.
While Doroghy was able to use his personal experiences and many local friendships to highlight the things only a long time resident would know.
"The whole project has been a great adventure," says Menzies.
"We discovered places we've never even heard of before, and we learned new stories about the places we've passed by thousands of times.
"Our book shares all the secrets we learned along the way."
Doroghy says they hope the book will give people a newfound appreciation for how great Vancouver is.
"We just love Vancouver so much," he says.
"It's just such an amazing city. It's got so much energy and it's so positive.
"We just hope people appreciate it and find something interesting."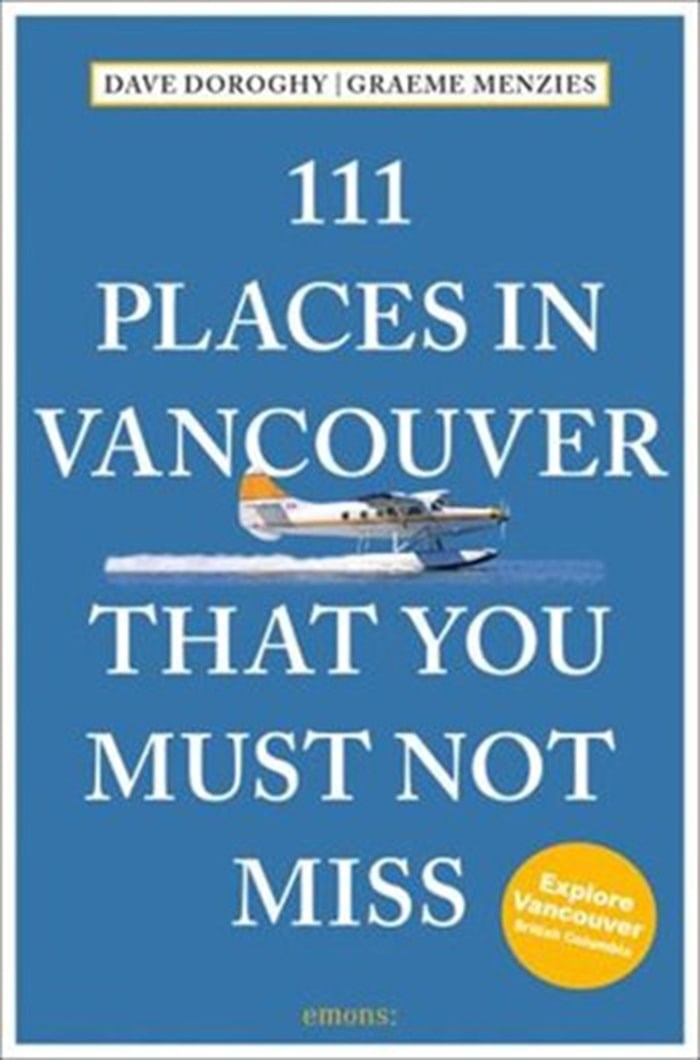 Their challenge to you is to go to every place and take a photo. Also, to help them outsell Toronto's Emons guidebook, (because they're competitive like that.)
Side note: If you're curious, the publisher always chooses 111 places because 11 is considered a lucky number in Cologne, Germany. They added the extra one because 11 wasn't quite enough destinations to make it a travel book.
The book can be found in stores around Vancouver and on Amazon.