Welcome to Miami.
Vancouverites looking to "party in the city where the heat is on" haven't had a non-stop flight option in a staggering 18 years.
Starting this winter, however, locals looking to kick back on the breathtaking South Beach shore will enjoy direct service compliments of the country's largest airline.
Air Canada has announced a thrice-weekly service from Vancouver International Airport (YVR) to Miami International Airport (MIA) that is slated to commence on Dec. 17, 2022.
"These are the only non-stop flights connecting YVR and Miami, offering additional options for non-stop, leisure flights for BC residents to explore Florida this winter, and conversely, for people from Florida to enjoy all that beautiful BC has to offer.
"Additionally, these new flights offer convenient, one-stop flights connecting Asia-Pacific destinations to Miami via Air Canada's transpacific hub at YVR," the airline told Vancouver Is Awesome in an emailed statement.
In 2019, Air Transat announced direct service from Vancouver to another major tourist destination in Florida, Fort Lauderdale, but the option was cut short by the declaration of the pandemic in March 2020.
What to know about flights from Vancouver to Miami
Air Canada will fly from Vancouver to Miami on Tuesday, Thursday, and Saturday, offering a morning service from YVR at 8:20 a.m. PST and arriving in MIA at 5:06 EST.
Miami departures are scheduled in the evening at 6 p.m. EST, arriving in Vancouver at 9:45 p.m. PST.
The direct flight from YVR to MIA will take approximately five hours and 46 minutes, while the return service will take roughly six hours and 45 minutes.
Pricing on flights to Vancouver from Miami
Tickets are already available for purchase on Air Canada's website, with one-way options selling for just over $300 CAD including all taxes and fees and return service for just over $550 CAD.
You can cancel within 24hrs for a full refund. After this time, tickets are non-refundable and non-transferable. The maximum change fee applied is $200 CAD per direction, per passenger, plus any applicable taxes and fare difference.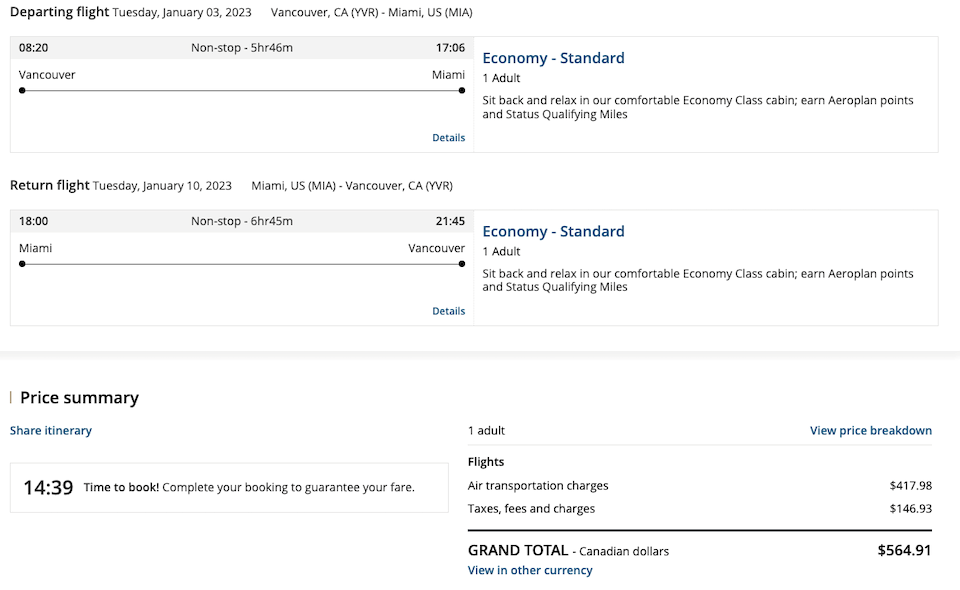 Aircraft on the new Air Canada Miami/Vancouver route
Air Canada will use the Boeing 737 MAX 8 Passenger for this route.
The first four rows of the plane are Business Class which feature reclining seats. There are 153 standard Economy Class seats available, and 54 of these seats are designated as Preferred, which means you'll enjoy extra legroom and priority boarding (this option may come with an additional fee).
"The new aircraft features quiet engine technology, improved overhead storage, an upgraded inflight entertainment system, and access to power ports at every seat," according to seatguru.com.
Welcome to Miami
Will Smith named a song after it — and once you stroll along South Beach, you'll understand why.
Miami is an exciting city with endless things to see and do. It is home to renowned restaurants, breathtaking beaches, exciting nightlife, and world-class shopping.
But if you are looking to spend more time on the beach, you may want to stay in a hotel directly in South Beach. While this area is easily accessible from the city, you will have to drive. So, if you were dreaming of staying a short stroll from the glistening white sand beach with awe-inspiring turquoise waters, you will want to book accommodation right in South Beach.
There are many expensive, ultra-glamorous accommodations in South Beach but several Art Deco hotels are more economical, particularly if you book them a couple of months in advance.