Vancouver Is Awesome is a proud sponsor of thisopenspace.ca, an online platform for booking unique spaces for pop-up shops, exhibits, and events.
They've hosted hundreds of pop-up concepts in Vancouver neighbourhoods since September 2012. Every time a new pop-up is about to launch @thisopenspace, you'll catch a sneak peek here on V.I.A.!
Hop down to The Bazaar this month in Chinatown put on by local brand Balsam And Vine to get your fill of pre-summer bohemia for the season ahead. Imagine rich printed textiles, tassels, metallic tattoos, handmade candles, original paintings, rare sculptures from SE Asia, aromatherapy, vintage denim and soft tees. Expect an eclectic sampling of sacred designed objects made by hand, locally and internationally. Happy Spritz, F As In Frank, Landon Dix, Woodlot, Coast Collective, Arrow House, Otto Textiles, iweartheheadress and the art of Sarah Delaney are just a few authentic names that will be in store this week.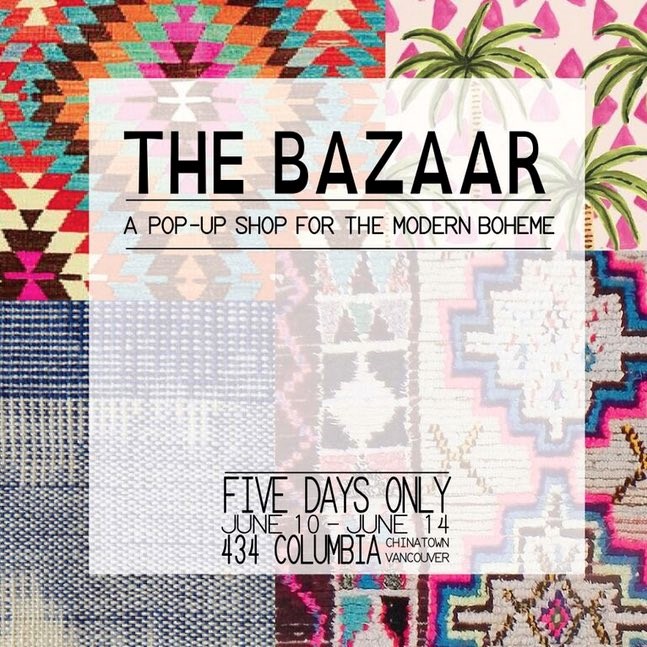 With a degree in Fashion Design from FIDM in Los Angeles, four years as a Senior Production Manager at Aritzia alongside six months travelling around SE Asia, Robynne Leibenberg has woven her passions together and is sharing treasures from around the world at The Bazaar produced by her brand Balsam And Vine. You might recognize her wildly popular temporary metallic tattoo line Boho Marks, currently sold in over 70 stores across the country. Leibenberg brings the latest in 2015 summer style to the pop-up June 10-14. Partial proceeds from the pop-up will go towards Change Her World. Opening Party Thursday June 11th, 6:30PM - 11PM @thisopenspace located at 434 Columbia St. Postmark beer will be on site for those who make it down to the opening! Oh and don't be afraid to wear flowers in your hair... we'll see you there.