Birdwatchers in Metro Vancouver have it good.
With three important bird areas — designated by Bird Studies Canada and Nature Canada — covering much of the region, there is no shortage of birding hot spots.
The Boundary Bay–Roberts Bank–Sturgeon Bank (Fraser River Estuary) Important Bird Area is the largest of the three.
An excellent way to sample "one of the richest and most important ecosystems for migrant and wintering waterbirds in Canada" is to go for a nature walk in Boundary Bay Regional Park.
Containing 23 kilometres of walking trails, the park is located in the Delta community of Tsawwassen and in the territories of the Semiahmoo and Tsawwassen First Nations.
From the Centennial Beach parking lot, I recently strolled the Dune Trail Loop, 12 Avenue Dyke Trail, Raptor Trail, and Savannah Trail.
We observed bald eagles, sandpipers, and more. Visitors may see glaucous-winged gulls, great blue herons, western grebes, and many others.
Further highlights of this easy loop include cattails, eelgrass beds, sand dunes, and viewing platforms.
For a longer walk, you can tack on a bit of the other Dyke Trail, which extends all the way to Surrey.
Dogs must be on-leash in the park because of the sensitive bird habitat it protects.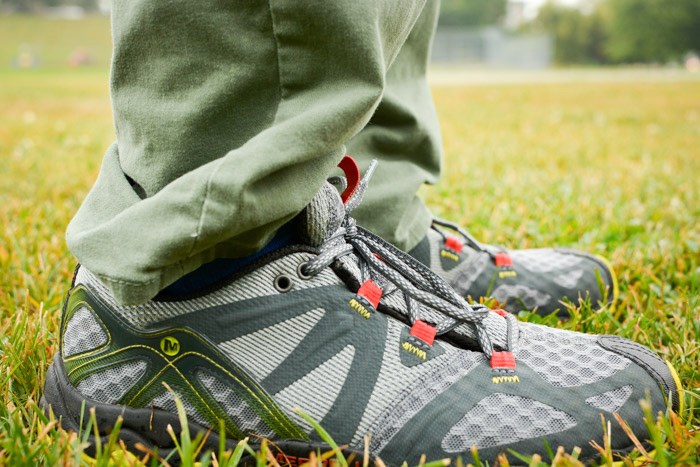 For a great hiking shoe option check out the Merrell Grassbow Air Hiking Shoes available at Mark's. Keeping your feet comfortable while hiking your favourite trails, these Merrell Grassbow Air Hiking shoes feature a breathable mesh and synthetic upper. An air cushion in the heel helps absorb shock and adds stability, and the molded TPU external heel counter adds even more stability. For extra cushioning, these shoes have a Merrell In-Board™ compression-molded EVA.