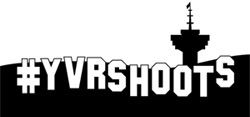 This series had its genesis when I began photographing Vancouver area location shootsin the summer of 2010 to get over a long post-Olympics funk. Film and TV productions like Mission Impossible: Ghost Protocol, Fringe, Supernatural and Once Upon a Time and our own Continuum and Primeval:New World showcase our city in similar fashion and sometimes put a celebrity actor or two in the frame. find more on my daily blog yvrshoots.com.
How's this for Comic-Con craziness? Comic-Con tweeted Twilight fans today asking them not to start lining up outside the San Diego Convention Center three days before the convention starts on Thursday like they did last year. The anual geekfest doesn't want them to erect another Camp Twilight tent city either. Any Twihard or TwiMom who tries to line up earlier than tomorrow or brings more than a chair and a sleeping bag with them, risks not being among the six thousand-plus lucky enough to get into the final vampires & werewolves panel at lunchtime on Thursday. If asked to leave, they'll miss seeing exclusive footage from the mainly Vancouver-shot The Twilight Saga: Breaking Dawn 2 and celebrity trio Kristin Stewart, Robert Pattison and Taylor Lautner in person. Organizers have scheduled the final Twilight movie as the first official panel in marquee Hall H so that Twilight teens and their Moms can't ruin Comic-Con like they have in the past.
[Update: A Twilight fan who'd been camping outside the San Diego Convention Center since Sunday was struck and killed by an SUV on Tuesday morning while rushing to cross the street to get back to the lineup which Comi-Con organizers were moving. Fellow fans are trying to organize a moment of silence in her honour during the Breaking Dawn 2 panel.]
Once the Twihards have gone home, Comic-Con is free to fly its geek flag until Sunday night, epitomized by what could be 2012's hottest panel -- the 10th Anniversary reunion of the cast (and creator) of space western Firefly, featuring Canada's own browncoat Nathan "Captain Tightpants" Fillion. Is cult TV once again dominating big budget movies at Comic-Con with Game of Thrones, The Walking Dead and The Big Bang Theory panels all in high demand too?
Maybe, maybe not. Iron Man 3 is a hot ticket, as are the Warner Bros./Legendary Pictures and Sony Pictures panels in Hall H. Who doesn't want to see footage from The Hobbit, which just wrapped filming in New Zealand? Or get a first look at two other mainly Vancouver-shot movies: the upcoming Superman reboot Man of Steel starring Henry Cavill (seen below filming a shirtless green screen rescue scene in North Vancouver) as part of the Warner Bros. panel on Saturday afternoon and mysterious space station movie Elysium starring Matt Damon (link to first official photo) and Jody Foster as part of the Sony panel on Friday afternoon. Vancouver director Neill Blomkamp will be on hand with his stars to answer questions about the followup to his Oscar-nominated first feature District 9. It turns out Elysium is the name of a vast space station constructed by a company called Armadyne where the very rich live in the year 2159  (want-ads for Armadyne  popped up at last year's Comic-Con, the start of a viral campaign for the movie). The rest of us –- the 99% if you will — live on the over-populated, ruined planet Earth below. A bald, buff  Damon is Max, who goes up against Foster as hard-line government official Secretary Rhodes, who will stop at nothing to enforce anti-immigration laws and preserve the grandious lifestyle of the citizens of Elysium in space (the mansion set below on Kent Hangar field could be on the space station).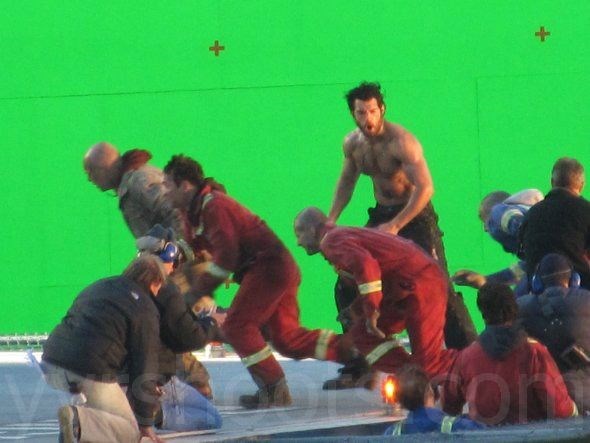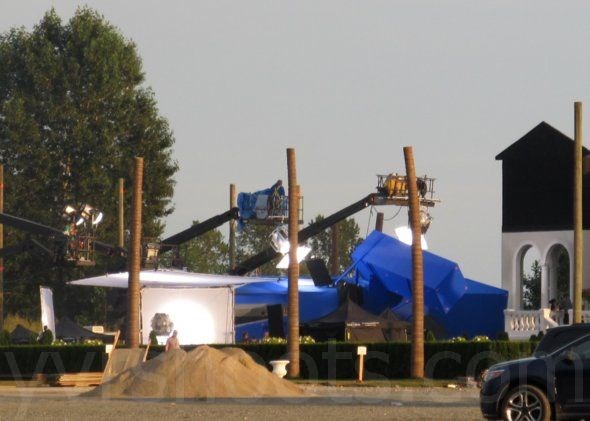 As for American network TV shows filming in Vancouver, Comic-Con organizers might have underestimated the popularity of hit fairy tale series Once Upon a Time which is looking to be too big for Ballroom 20 (which accomodates four thousand-plus fans) on Saturday morning, and needs to be in Hall H. Vancouver-shot Fringe has been upgraded to Hall H on Sunday morning for its final Comic-Con panel, followed by the-also-filmed-here Supernatural in the same venue. Genre fans might consider spending the whole morning there.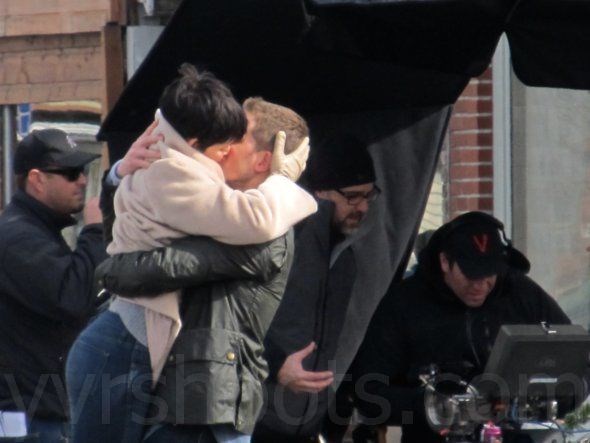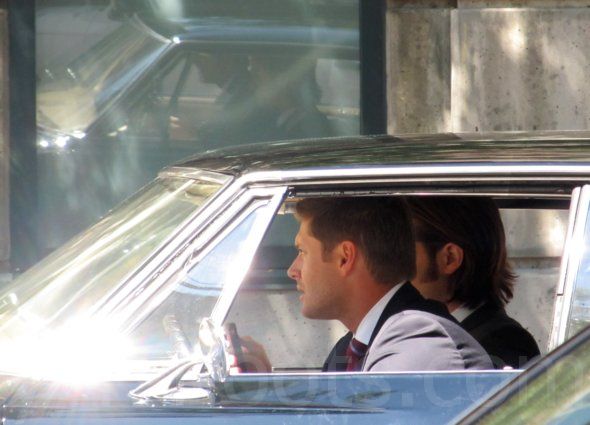 ABC's Once Upon a Time will have magic in real-world Storybrooke when it starts filming its second season here next week, so expect to see some green screens on Moncton Street in Steveston south of Vancouver, which usually doubles for Storybrooke. And expect to see more of Emilie de Ravin as Belle the better half of RumBelle (the single name for Rumplestiltskin and Belle as a couple), who has been upgraded to a series regular. Joining Emilie de Ravin (Belle) on the Once Upon a Time panel on Saturday morning at Comic-Con will  be Ginnifer Goodwin (Snow White), Jennifer Morrison (Emma Swan), Josh Dallas (Prince Charming), Lana Parrilla (Evil Queen), Meghan Ory (Little Red/Bad Wolf) and c0-showrunners Edward Kitsis and Adam Horowitz. They'll face a zillion questions from fans about what happens now that the curse is broken, fairy tale characters remember who they are and magic is coming to Storybrooke. Here's a link to the Comic-Con poster.
Fringe is expected to leap forward to the year 2036 when bad-ass Observers rule the world  (see photo below at the Olympic Village) in its fifth and final season on FOX, which starts filming in Vancouver next week. This time we hope Anna Torv's Olivia Dunham will find a way to join John Noble's Walter Bishop and Joshua Jackson's Peter Bishop to fight the future. The "Fringe family", as this trio is known, will be on hand for Fringe's final appearance at Comic-Con, along with Lance Reddick (Broyles), Jasika Nicole (Astrid), Blair Brown (Nina Sharp), and showrunner Joel Wyman. Here's a link to Fringe's Final Comic-Con Panel poster. Can you spot the 2036 Observers? (A couple of fans are organizing a "white tulip" tribute to the cast and creators in Hall H on Sunday.)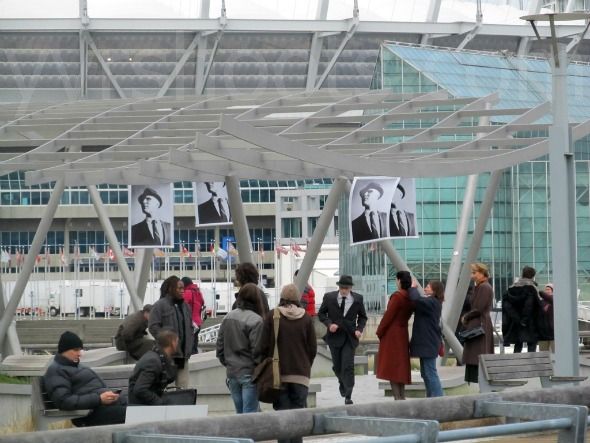 Supernatural left us with separated Winchester Brothers in its season seven finale on The CW. Dean is trapped in Purgatory, but that won't stop his alter ego Jensen Ackles from directing the first filmed episode, as he's done for the past two seasons. Season eight started shooting today so those who make it into the Supernatural panel in Hall H on Sunday morning might get to see some footage of the Ackles-directed episode three called Heartache. Apparently Sam Winchester, aka Jared Padalecki, finally gets a new love interest named Amelia. Joining the Winchester brothers on the Comic-Con panel will be Misha Collins (Castiel), Jim Beaver (whose character Bobby might be really gone this time, making this panel a chance to say goodbye) and Mark A. Sheppard (Crowley). Departed showrunner Sera Gamble will not be there of course, making way for new executive producer Jeremy Carver and writer-producer Ben Edlund.
Perenially-popular American cable TV show Psych returns to Comic-Con for the fourth year in row on Thursday afternoon to standing-room-only, people-turned-away capacity in Ballroom 20. While the hottest fake psychic detective agency has been filming in Vancouver without much fuss for almost seven seasons now, it's a completely different story in San Diego where the cast and showrunners are treated like rock stars. But then, USA Network's Psych really knows how to play to a Comic-Con crowd, with episodes crossing over into genre stuff like animation, vampires, super heroes and now Big Foot. Psych's entire main cast will be on stage from leads James Roday and Dule Hill (fake psychic Shawn and his BFF Gus seen filming in Vancouver in the photo below) to Maggie Lawson ( police detective Juliet), Timothy Omundson (police detective Lassie), Corbin Bernsen (Shawn's father) and Kirsten Nelson (Police Chief), as well as Psych creator and showrunner Steve Franks and fellow EPs Chris Henke and Kelly Kulchak. Last year Psych-Os (who either carry pineapples or come dressed as one) were treated to a hilarious taped shoutout from William Shatner, aka Star Trek's original Captain Kirk and Juliet's father on Psych's season six. Hopefully this year there'll be a hilarious shoutout from Jeffrey Tambor, aka Arrested Development's Oscar Bluth and Juliet's stepfather on Psych's upcoming season seven. And there will be gag video clips and a first look at season seven episodes in production like the Bigfoot episode directed by Roday and Psych's 100th episode called 100 CLUEs, a milestone celebrated by cast and crew with a party in Vancouver.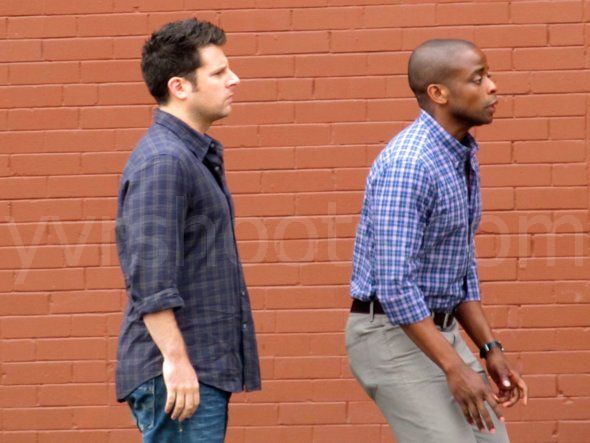 Supernatural's new Wednesday night lead -in Arrow on The CW will screen its kick-ass pilot twice at Comic-Con. Once in Wednesday night's Warner Bros. TV pilo sneak peeks and then again on Friday afternoon at the Arrow panel with Green Arrow Stephen Amell (photographed filming in Gastown below) no doubt wearing something green for the fans. Arrow presents in Ballroom 20, a big venue for a series that hasn't launched yet and a testament to big buzz surrounding this super hero reboot in the style of the Dark Knight trilogy.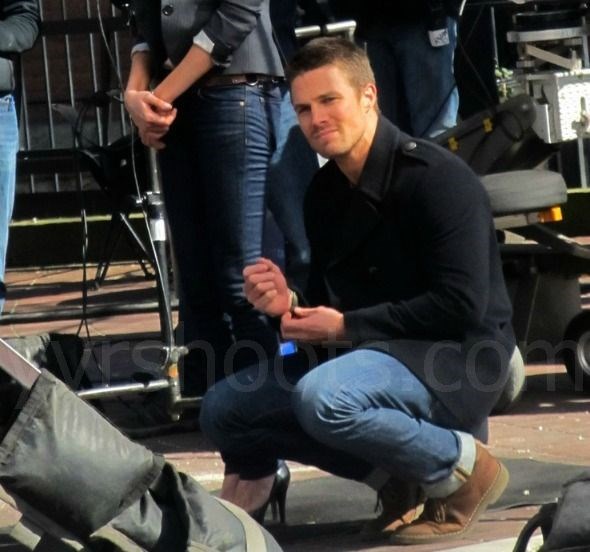 Mid-season CW show Cult will be screening its pilot twice as well: once at the Wednesday night Warner Bros. TV sneak peeks and then again at its own panel on Friday at lunchtime. Stars Matt Davis (filming the pilot in Victory Square in the photo below), Jessica Lucas, Alona Tal and Robert Knepper will present in Room 6BCF, a much smaller venue than Arrow's.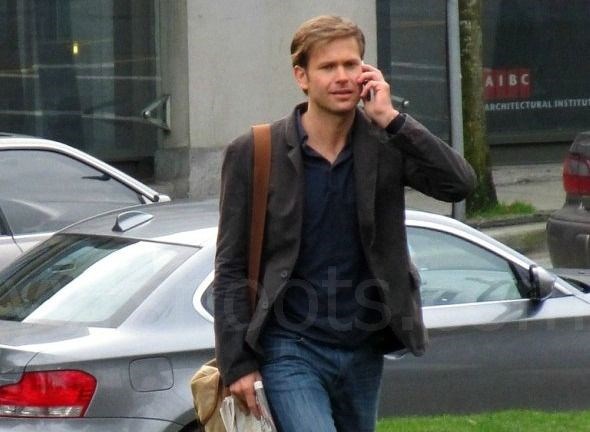 TNT's Falling Skies will give fans a heads-up on the remainder of its darker, second season filmed in Vancouver at its Friday afternoon panel in the smaller venue, Room 6CBF. Key members of the 2nd Massachusetts Militia Regiment, but not the alien invaders, will be on hand for a Q&A: Noah Wyle (father Tom Mason), Drew Roy (Tom's eldest son Hal) and Connor Jessup (Tom's now unharnessed middle son Ben), along with Will Patton (leader of 2nd Mass), Moon Bloodgood (doctor and Tom's new love interest), Sarah Carter (fighter Maggie and Hal's new love interest) and last, but not least, Colin Cunningham (John Pope, the Beserkers leader with all the best lines, photographed below on Western Street). Second season showrunner Remi Aubuchon will be there as well to answer questions like – What's the deal with the red-eyed Skitter, dubbed Red Eye?  Eureka's Wil Wheaton (or Wheeeeaton!! as his nemesis Sheldon on The Big Bang Theory calls him) will moderate the panel session.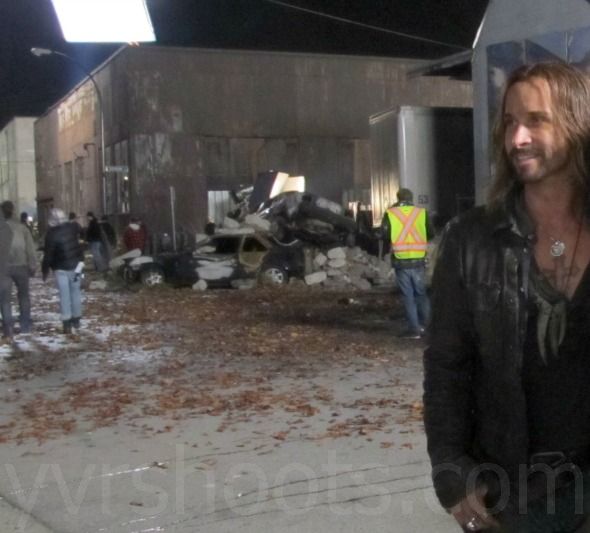 Update: Oh how I envy those going to Comic-Con 2012. Vancouver-shot sci-fi series Eureka and Battlestar Galactica will have mini-reunions this week with Eureka's Colin Ferguson, Salli Richardson-Whitfield, Debrah Farentino and showrunner Jaime Paglia signing autographs at Sails Pavilion and Battlestar Galatica's Tricia Helfer, Michael Trucco, Tahmoh Penikett and Kandyse McClure signing autographs at the Hermes Press Booth. Check the Comic-Con schedule for dates and times.