There aren't too many things that Jay Miron hasn't done in the world of BMXing, from inventing a list full of tricks, winning countless medals, magazine covers, bike company, distribution company, his own park….the guy is a legend.
Although he was born in Thunder Bay, he's been here for almost 20 years so….
Vancouver…check….Awesome….check…..here's Jay!
Why is Vancouver so Awesome?
North Shore Mountains and Rivers, Stanley Park, Granville Island Market, Kesler and Borrows, Sky Train, Exhale Studio, Sea Wall Bike Path, Vancouver Airport is close to downtown, 3 Ride BMX Shop, Skateparks everywhere, Commercial Dr, Main St, Every restaurant has veggie stuff on the menu, Commissioner Blythe, Basement Bar at Lucy Mea Brown's, Deep Cove, There's way more girls than guys, and half the guys downtown are gay, So that makes way, way more girls, Rain in the winter because it makes summer so green, the attitude of the residents, and the fact that there's no freeway going into downtown.
What were your first impressions and memories of Vancouver when you moved here?
When I first moved here, I was overwhelmed by how the mountains, the ocean and downtown all fit together. I also couldn't believe how much it cost to live here. 
What is your favourite thing to do on a day off in Vancouver?
I love to go to Third Beach or one of the rivers in North Van with a bunch of friends, swim and lay in the sun. Nothing beats a hot sunny day in Vancouver.
What is your favourite place to eat in Vancouver?
East is East or Hapa Izakaya. Cactus Club when a bunch of BMXers are in town. They like the service.
Where is the best place to ride in Vancouver?  
Best places to ride are Hastings, Park Gate and Bonsor in that order. Basically anything Jim Barnum builds. I think he's a genius, he builds parks that are perfect for bikes, big flowing and steep. When I ride with the old guys these days, and usually it's around the sea wall.
How has the BMX scene in Vancouver changed over the years?  
Back in the nineties there were only a hand full of parks and it seemed like everyone rode together. Now there are so many more riders and parks that it's split the scene up into a bunch of smaller crews. The cool thing is that everyone still gets along pretty well.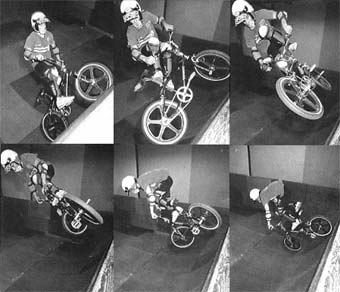 (skate ranch footie…back when it was cool to get along…)
What's new with MacNeil?
Beach Cruisers. This June we're releasing a new line of 26 inch Cruiser bikes that are comfortable and easy to ride but super light and responsive like a BMX. They're perfect for the sea wall.

Jay Miron – MacNeil DVD from MACNEIL BMX on Vimeo.