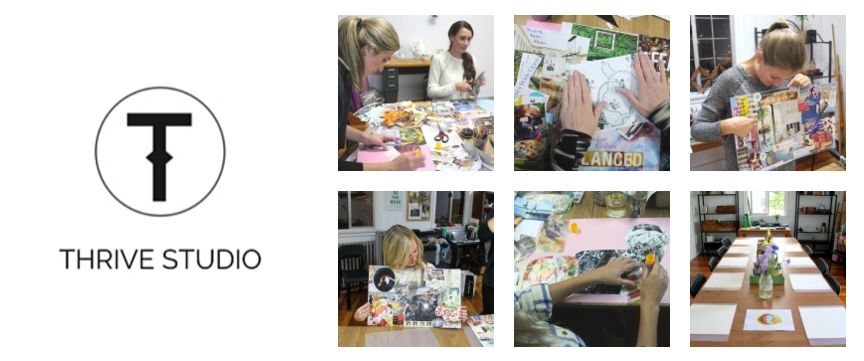 A short while ago, V.I.A. met up with artist Jamie Smith. She is the founder of Thrive Studio an exciting venture that came to be when Smith boldly seized an opportunity to acquire a much larger studio space on Main Street. Priced a bit high for a lone artist, as is always the case in Vancouver, Smith had two thoughts when moving in, she could gain a couple of studio mates, or she could try to manage the entire space on her own. She got to work in the studio and quickly realized she wanted to also do something more….
She wanted to network and community build… lightbulb flash – this is how Thrive came to life in July of 2015. In Smith's words "Thrive Studio is dedicated to creativity and conversations that energize women to expand their art practices, their businesses and their lives."
Many artists who move to Vancouver find the city's art scene quite difficult to navigate. Smith is no stranger to this phenomenon, she completed her education at University of Victoria a few years ago. Following on from that, she lived abroad for several years. Upon returning and dedicating her time to her own practice, Smith experienced the painfully slow integration process. She set up many a meeting and many a coffee date to get to know people in tandem with working in the studio, and slowly…. things shifted. As she puts it "There were a lot of ups and downs and also a lot of running in the dark. You just hope to hell that you won't hit something and keep going." Smith didn't know any artists working in the city when she first moved back and found it difficult to develop her work without connections and conversations with others also struggling through their work and practices.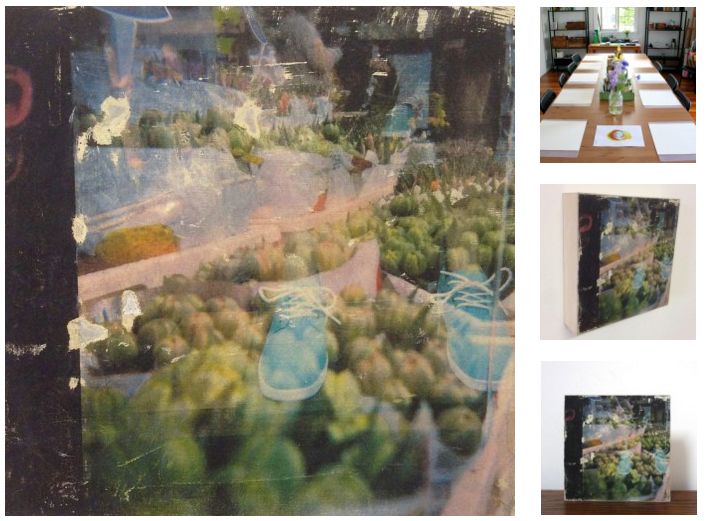 Her slow transition into the Vancouver scene wasn't for nothing, perhaps it was preparing her to generate this new altruistic experiment. Smith isn't just passionate about her art and practice, she is also great at connecting people. The Thrive platform is a natural fit. She hopes that it will help many different types of artists (emerging, new to Vancouver, mid-career and established) with research, networking and mentorship. She also envisions Thrive eventually growing beyond Vancouver and into other art communities in Canada and internationally.
What does Thrive Do?
"A big thing that I want thrive to do, is to put out into the world, the sense of positivity and gratefulness that everyone should feel in having the opportunity to be an artist. The lack feeling is strong as an artist, how do you overcome the lack. I have realized recently, that this is amazingly fun, we get to build a life making what we want to make. There are already many people who live their lives as artists, if we can figure out how to do this together, then your joy becomes your work and it turns into such a nice flow. You should leave Thrive feeling uplifted, but each person should also bring that into the room. It is important because it is easy to get into the negativity, complaining and hardship of it all." Currently Smith sees Thrive as an exciting experiment, the parameters of which are still being defined. The Studio's remit may change over time, but currently, here is an overview of what happens at Thrive:


MONTHLY COLLAGE NIGHTS
Many artists who toil away isolated in their studios forget the reason they became interested or passionate about the arts, they forget to play. Bogged down in the day to day activities, emails, and tasks involved with their practice, a night of experimenting where you don't have to produce something that goes into a show, or on a wall, is just what the doctor ordered. "The monthly collage nights have been hugely rewarding for me as well as others, there are 10 or so women at the table, all from different art and creative backgrounds…. It's very un-precious. Collages bring a greater sense of freedom as opposed to painting and drawing. The pressure of creating is different. It's all about play. Collage nights are also timed. Because it is often true that if you have more time to make work, it doesn't necessarily mean you'll make better work, it just means that you'll obsess over it more."

THRIVE TALKS
This series focuses on creative people gaining insight and advice from successful peers in the arts. These talks are monthly, and each speaker shares their personal journey as well as extra advice on practical things that can be applied to any individual art practice. Thrive talks are meant to provide very specific, transferable and relevant advice to artists.
EDUCATE
The first two streams at Thrive focus on creating and inspiring, the third stream Smith is installing in 2016 will be the educational component of Thrive. These will be in the form of a set of courses & talks dedicated to the business side of a practice. For example, Smith would like to bring in an accountant who can discuss tips and techniques with artists on doing expenses, cash flow sheets, and things that can be written off. "I am hoping that people will see this as a huge resource for them. Also, you can come in and meet other artists going through similar struggles, you can be accountability buddies!" Communications, marketing, and navigating gallery contracts, are just a few potential components to Smith hopes to integrate into Thrive Educate.

MASTERMIND
Mastermind is another important element to the studio. This is a small, peer to peer group that connects on a monthly basis and provides encouragement, accountability, knowledge and advice. "This can be game changer for me….There is a camaraderie that is great." says Smith enthusiastically. "It helps you to stay in the game mentally and keeps you positive and excited." This group is currently closed, but you can contact Jamie to see if there you can potentially join a new Mastermind group.
OPEN STUDIO
Thrive also offers every month or so a variety of workshops. From painting and image transfer to gift making and terrarium building, there will be an amazing selection of studio workshops that one can partake in honing a skill, or learning new ones.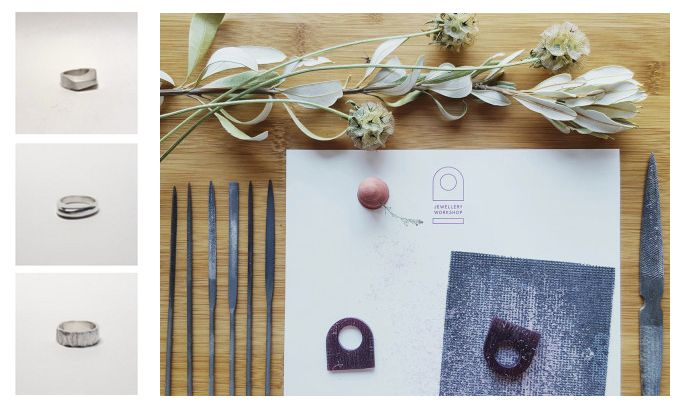 What does the Future Hold…
For now, the space is evolving, "I am hooked, it has been great experimenting with Thrive. By the way, things have totally failed, I'm not talking about these, but I am developing my recipe of what people are responding to. I have seen the magic happen and it shows me how critical it is…It is about bringing people together, but also about disrupting norms, and forging new ideas in art." Smith has many different ideas for the future such as growing Thrive as an online resource, potentially creating an interactive weekend conference and developing a critical/curatorial angle. She wishes to also make connections internationally and across Canada with similar groups that also focus on female practitioners. Most importantly, Smith wants to keep Thrive accessible. "I want anyone and everyone to feel comfortable coming to thrive and to be privy to the many different paths one can take in being an artist and having a practice. They can take this knowledge and use it to build their own path."

We asked Smith – What are three things artists can do to continue their growth and development in Vancouver? She suggested the following: know where to find the information that you need, find your community and find a mentor. No coincidence, all of this can potentially be found at Thrive Studios. What can we say, Smith is good at what she does!
Artist or non-artist, consider taking a break from work or the studio, you may soon discover that by investing in this thriving community, you are ultimately also helping yourself.
UPCOMING EVENTS AT THRIVE:
Silver Ring Making Workshop – January 23rd, 1-4pm
Collage Night – January 26th, 7-9pm
Thrive Talk with Artist Rebecca Chaperon – January 27th, 7-8:30pm
Vision Board Workshop – January 31st, 1-4pm