Aurora, a 20-year-old resident at the Vancouver Aquarium, gave birth to a baby beluga girl at 3:39pm on Sunday, June 7, 2009. You can watch them swimming around and bonding on the Aquarium's beluga cam.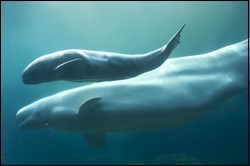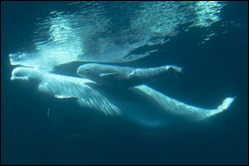 This newborn beluga is:
about 1.3 m long and weighs roughly 50 kg

slate grey – she will gradually lighten as she matures

wrinkled for the first few weeks

currently unnamed - - there might be a competition!

adorable awww!