A new kitty once a week! Click here to find out how your cat can appear on Van City Kitty.
Submitted by VIA reader Courtney Komonasky, it's Eddy. An original East Van toughie: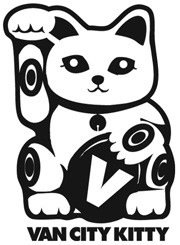 Name: Eddy
Breed/Colouring: DSH/ black (duh)
Hood: Mount Pleasant
Habits: Resident tough guy. He's super social and goes and hangs with the neighbours when I'm at work to mooch love and food. Loves to sit on any sunny front porch or directly in front of the heater.
He recently broke a tooth and fractured his jaw doing who knows what, protecting his turf most likely.
If you're interested in adopting a pet, check out our Happy Tails feature or our monthly Van City Kitty Take Us Home editions (most recently here or here.) If you adopted your pet from the SPCA and would like to share your awesome story on Happy Tails, send an email to Rory.Blanchard@novusnow.ca.