A new kitty once a week! Click here to find out how your cat can appear on Van City Kitty.
Here are the deets on Popcorn, submitted by her buddies James Kim & Justyna Krol: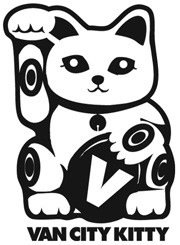 Name: Popcorn
Breed/Colouring: Grey tabby
Hood: Yaletown
Habits: Sleeping, complaining, licking plastic bags, hiding in boxes, pretending she has not spent the night on the kitchen counter.
Hangouts: The bed, the couch, the windowsill, people, occasionally in the middle of the room staring balefully at a spot in the middle distance.
Other info: Named Popcorn because when we brought her home from the SPCA in a cardboard carrier, she continuously tried to batter her way to freedom – producing a noise similar to microwave popcorn. (It was a LONG drive back.) She enjoys steamed red bean buns, which we learned about through experimentation, otherwise known as "forgetting about your red bean bun." Gold Bond Medicated Lotion makes her angry and she will try to bite you if you have it on. We do not buy Gold Bond Medicated Lotion anymore. Being sartorially savvy, she disapproves of the neighbourhood penchant for yoga pants. When in proximity to anyone actually wearing them, she will try to obliterate them with cat fur.
If you're interested in adopting a pet, check out our Happy Tails feature or our monthly Van City Kitty Take Us Home editions (most recently here or here.)
If you adopted your pet from the SPCA and would like to share your awesome story on Happy Tails, send an email to Rory.Blanchard@novusnow.ca.