A new kitty once a week! Click here to find out how your cat can appear on Van City Kitty.
Here are the deets on Zoey, submitted by VIA reader Alison Scott: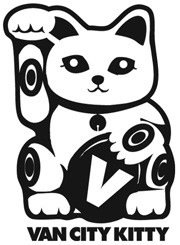 Name: Zoey
This is Zoey, my tabby cat. Her 'hood is the Drive. She hangs out on tabletops, in suitcases, and in a smelly old cat bed she's had for five years (she's not interested in your fancy and clean new replacements, thank you). She will not sit in your lap. She likes to sit at her water fountain (she's spoiled) until you turn it on and then walk away- she's not thirsty, she just wants to know you'll do things for her. She'll make you wave long blades of fake grass at her for hours, because she *might* want to play. She's manipulative and totally adorable.
If you're interested in adopting a pet, check out our Happy Tails feature or our monthly Van City Kitty Take Us Home editions (most recently here or here.)
If you adopted your pet from the SPCA and would like to share your awesome story on Happy Tails, send an email to Rory.Blanchard@novusnow.ca.