A new kitty for your kitty for you to stare at! Click here to find out how your cat can appear on Van City Kitty.
Meet Boo Bear, submitted by VIA reader, Ilke!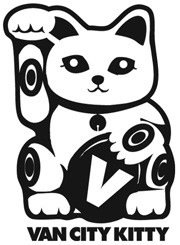 Name: Boo Bear
Breed/Colouring: A tabby with the mane of a lion.
Hood: East Van, with his buddy, Mr. Fox.
Habits: Playing fetch - even bringing the ball back and placing it in your hand.
Hangouts: Outside on a leash, and on Ilke's boyfriend's desk, just staring adoringly.
Favorite Things: Ilke's boyfriend, crinkly balls (the cat toy kind, that's not a jab) and the sun.
Other Info: "Boo Bear was found behind a freezer in a barn in Surrey BC. He was weeks old and still had his eyes closed. He still has asthma and a mild heart murmur today but nothing stops his appetite for life."
Creep these two on Instagram: @mrfoxandboobear
If you're interested in adopting a cat, check out our monthly Van City Kitty Take Us Home editions - last time was MICKEY and GERRY click here to meet them!