A new kitty twice a week! Yup, we want YOUR cat photos and stories! Click here to find out how your cat can appear on Van City Kitty.
Today's Van City Kitty is so cool he needs a first and a last name. Sent by VIA reader Kevin Kimmett, it's Charlie Kimmett!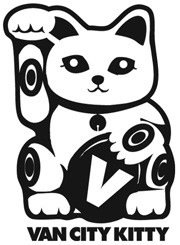 Name: Charlie Kimmett
Breed/Colouring: Cinnamon Tabby
Hood: Oak & 16th
Habits: Charlie is very regimented in his feedings, since he loves to
eat we have to break his day into 2 mealtimes...7:00AM and 10:00PM or
else he would eat himself sick. No matter what we are doing he starts
meowing and won't stop until he gets fed. As soon as he sees us
getting ready to leave our apartment he starts meowing because he
knows that some treats are coming.When it's thrown up in the air, he is able to catch a treat in his paws and put it in his mouth. He also knows to sit for his food. He loves watching the birds in the tree outside our window and gets very excited on garbage day watching the trucks go up and down the alleys from our windows. We have hardwood floors and at night when we come home from work he bolts from the apartment and rubs himself all over the carpeted hallways. Only he decides when it is time to be petted...anyone trying to force a pet gets a warning bite!
Hangouts: He has a sofa chair all to himself, a stuffed donut bed that sits on top of our bed and if you really can't find him he's usually under the dining room table on one of the pillows on top of the chair.
Other info: Charlie is a stray that we picked up from the Humane Society when we lived in Toronto. He has FIV but lives a very healthy
and active life (indoors).
Are you looking for a (or another) little furry beast to love? Please check out Happy Tails, our weekly segment featuring the BC SPCA and one of the animals they currently have available for adoption. (You may have noticed that many of the Van City Kitties came from the SPCA!) Check back every Saturday for a new Happy Tails segment!
And if you adopted your pet from the SPCA and would like to share your awesome story on Happy Tails, send an email to vancitykitty@vancouverisawesome.com or Rory.Blanchard@novusnow.ca.