A new kitty once a week! Click here to find out how your cat can appear on Van City Kitty.
Van City Kitty friend Dr. B. (who incidentally is writing a book about Douglas Coupland's work; how cool is that?!) is an English professor. Ergo, her two cats are named Chaucer and Swift. I'll let her tell you their tails: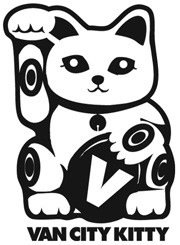 Name: Chaucer
Info: This is Chaucer.  He is a grey tabby.  He lives in New West, though he was born in Ottawa and spent four years in Fredericton.  He rode in a car from Fredericton to New Westminster, and didn't complain once until he hit the Port Mann Bridge which, hey.
He likes sleeping, washing all of his toys, and getting stoned -- and then washing all of his toys and sleeping.  His favourite place to sleep is on pricier electronics.  He has regular morning jaunts on the balcony and loves to sleep on a well-packed box.
He has pretty much the biggest heart ever and takes life extremely, extremely seriously.
Name: Swift
Info: This is Swift!  Also a grey tabby.  He is equally as well-travelled as his older brother, Chaucer, and also now calls New West home.
His hobbies include sleeping in boxes, sleeping on bookshelves, and jumping on to super high things -- to sleep.  He spends many hours willing his thumbs to grow so he no longer needs humans.  He likes spooning with his big brother and murdering feathered objects.
He's a goofball and a trouble maker, but we're pretty sure he loves us.
If you're interested in adopting a pet, check out our Happy Tails feature or our monthly Van City Kitty Take Us Home editions (most recently here or here.)
If you adopted your pet from the SPCA and would like to share your awesome story on Happy Tails, send an email to Rory.Blanchard@novusnow.ca.