A new kitty twice a week! Yup, we want YOUR cat photos and stories! Click here to find out how your cat can appear on Van City Kitty.
VIA reader Andrea submitted her gorgeous blue-eyed beast Cleo. Here's what Andrea had to say about Cleo: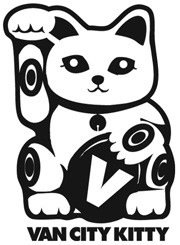 Name: Cleo Tong-Tucker
Breed/Colouring: Siamese Snowshoe Tabby
Hood: Fairview
Habits: Sleeping, eating, looking for cuddles (only from her family—I stress the 'only' part)
Hangouts: In the spring/summer, you will most likely find her lying in a sunbeam, and in the winter, propped up next to the radiator. If you have anything soft and plushy, you can pretty much bet that she will be on it.
Other info: Cleo was rescued from the BC SPCA in May 2003. Apparently her old owners were moving and didn't think she would adjust well to new surroundings. She was the second cat I saw at the shelter and it was love at first sight. We bought her home, she hopped out of the box and has been home ever since.
Are you looking for a (or another) little furry beast to love? Please check out Happy Tails, our weekly segment featuring the BC SPCA and one of the animals they currently have available for adoption. (You may have noticed that many of the Van City Kitties came from the SPCA!) Check back every Saturday for a new Happy Tails segment!
And if you adopted your pet from the SPCA and would like to share your awesome story on Happy Tails, send an email to vancitykitty@vancouverisawesome.com or Rory.Blanchard@novusnow.ca.