A new kitty once a week! Click here to find out how your cat can appear on Van City Kitty.
Here are the deets on Lazuli and Pandora as submitted by VIA reader : Andrea Polonijo!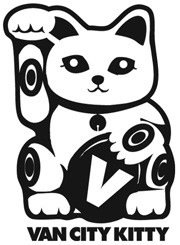 Names: Lazuli and Pandora
...
Breed/Colouring: Lazuli is a head turner with long luxurious white and grey tabby fur. Pandora is always dressed to impress in her trim black and white tuxedo.
...
Hood: Main Street
...
Habits: Lazuli is a hipster-in-training, evidenced by the fact that she loves curling up on mom's chambray shirt and listen to her Beach House album.  She's a close-talker; she gets right up to your face to purr and lick you while digging her tiny paws into your neck! Pandora is adorably lanky and can often be found in the classic "spooky cat" position – back arched and tail up! She has amazing ball dribbling skills and hopes to play on the Canadian Women's Soccer Team one day.
Hangouts: If mom's cooking, they are right by her feet, licking their lips and hoping that she will drop some crumbs. If mom's trying to work, they love to sit on her lap, laptop, or papers – whichever is most inconvenient! When it's sunny they can be found sprawled out on the windowsill.  In any case, they are always together; they are inseparable.
Favorite Things: Hunting mom's toes while she's asleep, chirping like squirrels while chasing each other in circles around the apartment, and snuggling!
Other Info: At eight weeks old, these sisters were found after having been dumped (by a very bad person) on the streets of Smithers, BC. They were rescued by the good people at the North West Animal Shelter and flown to Vancouver where they were fostered by VOKRA.  When they were four months old they successfully wooed their adoptive mom's heart with their charm and good looks, and are now living it up in Vancouver's East Side!
Cats of Instagram Superstars: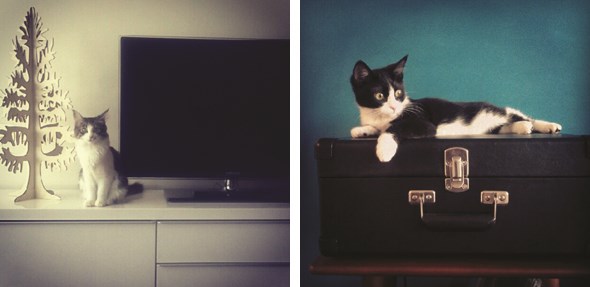 Even cats know: Kitty bellies make the softest pillows.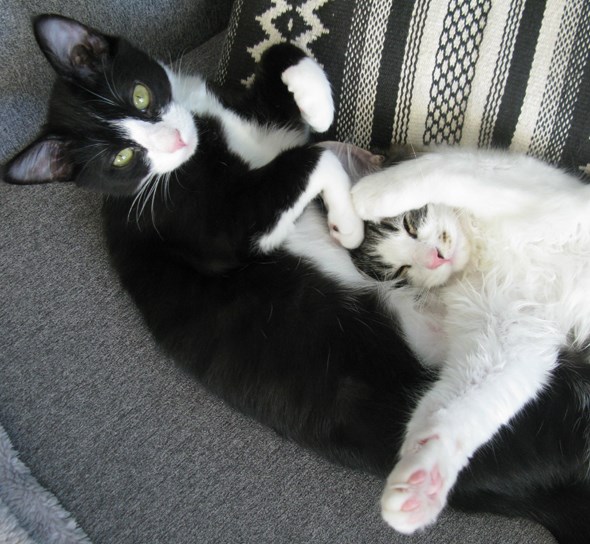 If you're interested in adopting a pet, check out our monthly Van City Kitty Take Us Home editions (most recently or here or here .)