A new kitty once a week! Click here to find out how your cat can appear on Van City Kitty.
Meet Luna, submitted by VIA reader, Simone!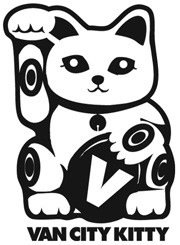 Name: Luna, like Sailor Moon's cat, or the Cult Of, or just the moon, because the moon is nice.
Breed/Colouring: A fluffy puffy tuxedo of a cat with a kitten face.
Hood: The West End of Vancouver, where she might be able to see fireworks or parades.
Habits: Posting pictures of herself on Instagram (@thelittlelunakitty)
Favorite Things: Luna likes to eat pretty much anything. She consumes ribbons, her catnip toy, and (unless I misunderstood the email, but honestly I wouldn't put it past a cat to eat a chair) bits of her favorite vintage chair in hopes to gain their spirit powers.
Other Info: Simone tells us, "she is the biggest cuddle bug. You can throw her over your shoulder, toss her around, hold her like a fluffy furry baby. She don't care. She loves cuddles. She is 4 years old and was born on National Toasted Marshmellow day. Very suitable."
If you're interested in adopting a cat, check out our monthly Van City Kitty Take Us Home editions - last time was DIJON, click here to meet him!