A new kitty once a week! Sometimes you can adopt them, sometimes they are totally spoken for. Click here to find out how your (spoken for) cat can appear on Van City Kitty. Meet Marbles, submitted by VIA reader, Chantal!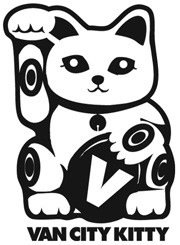 Name: Marbles. (Marbles! Has there ever been a cuter kitten name?)
Breed/Colouring: Grey and stripey and park Bengal.
Hood: Port Coquitlam
Habits: Bouncing around and teasing his 15-year-old, much bigger cat sister, Kodi.
Hangouts: This kitten doesn't really slow down enough to have a "hangout" yet. Chantal says he's, "like the energizer bunny - never slows down because there is too much to explore & play with!"
Favorite Things: Playing "surprise tag" with your feet as you attempt to walk down the stairs.
If you're interested in adopting a cat, check out our monthly Van City Kitty Take Us Home editions - last time was RAYNE, click here to meet him!