A new kitty once a week! Click here to find out how your cat can appear on Van City Kitty. Meet Miles, submitted by VIA reader, Janice!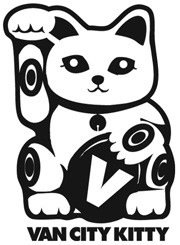 Name: Miles, named after Miles Davis
Breed/Colouring: Tabby+Bengal with "celadon green eyes, black and silver stripes with a spotted tawny tummy and weighs in at a muscular 15 pounds." Oh my.
Hood: Way down south and through the bridge in South Delta, where he lives a life of indoor luxury with his very loving person.
Habits: Janice tells us, "his habits are annoyingly sweet. The big one being his vocal acrobatics. He trills, chirps, howls, yodels, and just plain meows. He yells, calls, responds to his name and throws temper tantrums when thwarted. But he is affectionate, and very much a gentleman."
Hangouts: Mostly Janice's head, or the bodies of anyone who dares to rest in his home.
Favorite Things: Sitting in his high-ceiling'd stairway and howling so loud that it can be heard from outside so that anyone wandering past might think he's in grave danger. But it's really just because the echo amuses him. And really, who doesn't love to yell and hear echos?
If you're interested in adopting a cat, check out our monthly Van City Kitty Take Us Home editions - last time was Dijon, click here to meet him!