Attention cat people. It is that time of year where COSTUMES FOR CATS are happening. Please fill my inbox with photos of cats in costumes and a little bit about your furry little one(s) for me to share here, and delight in. Go nuts. Do a cat couple costume. Send pictures. It'll be amazing for all. Click here to find out how your cat can appear on Van City Kitty.
But for now, meet Mr. Fox, submitted by VIA reader, Bakker!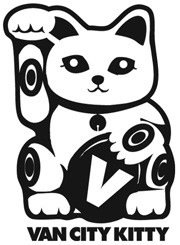 Name: Mr. Fox
Breed/Colouring: A giant puffy adopted ragdoll GIANT with a substantial white grandfather mustache.
Hood: East Van
Habits: Opening all the doors and crying like a baby when left alone for over an hour.
Hangouts: Mr. Fox can likes to strut his big fluffy self outside on his leash and harness.
Favorite Things: Boxes, hair ties, and Temptation treats.
Other Info: Mr. Fox has an Instagram following of almost 10,000 followers with his bro. Join them: @mrfoxandboobear
If you're interested in adopting a cat, check out our monthly Van City Kitty Take Us Home editions - last time was MOOGY, click here to meet her!