A new kitty once a week! Click here to find out how your cat can appear on Van City Kitty.
Here are the deets on Oreo, who lives with VIA reader Lauren Tetrault: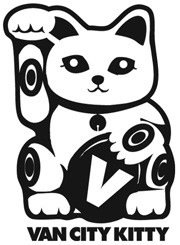 Name: Oreo
Breed/Colouring: Black and white
Hood: Mt. Pleasant
Habits: I'm a big fan of licking the bathtub just after someone showers. I also love meowing around 5 a.m. right into the ear of everyone sleeping. Once they are up I go back to sleep. I want whatever you are eating and will stare at you until I get it.
Hangouts: Anywhere my owner is sitting. If she is editing on the computer I take up most of the chair and she sits on the edge to make me happy. I also have three beds around a small one bedroom apartment.
Other info:I'm an 18-year-old diabetic cat so I'm pretty much the boss. I need two needles a day so I travel with my owners whenever possible. I was born in Whistler and love to go back there for Halloween.
If you're interested in adopting a pet, check out our Happy Tails feature. If you adopted your pet from the SPCA and would like to share your awesome story on Happy Tails, send an email to Rory.Blanchard@novusnow.ca.