A new kitty once a week! Click here to find out how your cat can appear on Van City Kitty.
Meet 18 year old beauty Princess, submitted by VIA reader Jen McIntyre: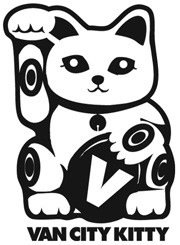 Name: Princess
Age: 18 years (Ed: that is equivalent to approximately 89 human years! Wow!)
Breed/Colouring: Domestic Short Hair
Hood: West End
Hangouts: Apt balcony, bed comforter, cat perch watching birds, couch, computer chair.
Other Info:Was adopted from the SPCA as the runt of the litter. Lived in East Van 2/3rd of her life and moved to the West End at the age of 12. Wishes she could catch a bird once in her life. Enjoys sleeping to keep up her beauty.
If you're interested in adopting a pet, check out our Happy Tails feature or our monthly Van City Kitty Take Us Home editions (most recently here or here.) If you adopted your pet from the SPCA and would like to share your awesome story on Happy Tails, send an email to Rory.Blanchard@novusnow.ca.