A new kitty once a week! Click here to find out how your cat can appear on Van City Kitty.
Here are the deets on local beauty Princess Bob, submitted by VIA reader Jessica O: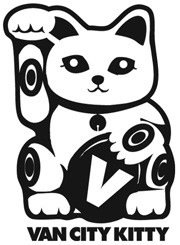 Name: Princess Bob
Breed/Colouring: Tabby
Hood: Cedar Cottage
Habits: Her favourite toys are hair clips and helium balloons. Sometimes after dragging the balloon around everywhere, she'll store it under a chair for future use. Her blissful meows make it totally worth the $1.25 dollar store price. It's a good thing I'm a night owl cause her usual playtime is 3am.
Though she's an apartment cat, I try to take her places to keep her from being bored. She's been trained to walk on a leash and likes to run down the apartment halls to check the mail with me. In the summertime, she gets to sun on the grass outside. She likes it so much that she taught herself to open the screen door last year. Seeing as she's so smart, I've been trying to teach her to roll over for wet food.
Bob has never been a scaredy cat. Loves meeting my visitors (including the pizza delivery guy and plumber) and often runs to the front door when she hears the buzzer. Almost all animals are her friends. Her favourite little buddy is Ziggy Stardust, my friend's kitty. (Also on your site). They like their wrestling matches and killing me with their adorableness when they groom each other. Whether she roughhouses with another cat or a human, her little swats are usually followed with a quick lick to make you feel better. The only animals she hates are those East Van raccoons. This normally laid back sweetie will turn into a hurricaine of yowling fur who will continue to bounce off the patio door until the raccoons take off. My hero.
Hangouts: The nearest lap, fluffy pillow, or staring out the window.
Other info: Her name often confuses people. I chose it cause I promised one of my favourite people that I would name a cat after him. As I brought home a girl, I had to change the name slightly. Came to Vancouver straight from Vanderhoof. She was a stray and about 9 months old went I met her. I found her at Vancouver SPCA and it was love at first sight. I'm really grateful to the staff there. I described the personality of a cat I'd like to adopt and they hooked me up with the perfect pet. As soon as I picked her up, my knees melted and I knew I had to take her home. She's so soft and cuddly and generally perfect. I never knew cats could give you hugs before I met her. Her only vices are shredding paper and peeing on bathmats. This I can put up with in exchange for having her in my life. Everyone who meets her just loooves her... even dog people.
If you're interested in adopting a pet, check out our Happy Tails feature or our monthly Van City Kitty Take Us Home editions (most recently here or here.)
If you adopted your pet from the SPCA and would like to share your awesome story on Happy Tails, send an email to Rory.Blanchard@novusnow.ca.