Hey there!  Kitty families!  Send me your cats!  I am looking for kitty photos and details on kitties from all over Metro Vancouver. Put them in my inbox, get them on VIA, then brag to your friends and show them how you love your cats cats more than they love their cats: vancitykitty@vancouverisawesome.com
A new kitty once a week! Click here to find out how your cat can appear on Van City Kitty.
Here are the deets on Heineken as submitted by VIA reader : Lilian Taylor!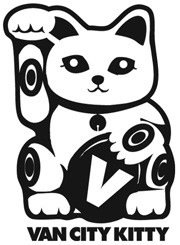 Name: Heineken. Also answers to (among other things) Min, MinMins, Muppetmoo, Heinemittens, SausageDog, KittenCat, Poopsiecat, Salami, Pusskin-Wooskinpuss...
...
Breed/Colouring:  Heineken is a classic tabby, sort of a mixture of black and various sandy colours, with glorious swirly markings.  His whiskers have changed from their original black to a bright sparkling white as he has matured from the young man-about-town cat that he used to be into the very distinguished gentleman-cat that he is now.
...
Hood: North Vancouver
...
Habits:
He is a meeter and greeter with many approaches; sometimes he'll come right up and weave around your ankles in an attempt to make you wobble (maybe because it's funny to watch you try to not fall over.) Other times he's more laid back and stays put in whichever comfy location he's chosen for the moment and just meows his greeting and instructions on how you are to proceed. Sometimes he's a bit more wary or contrary and will meow a hello, then wander off out of arms reach. This is also his favourite way to tease enthusiastic would-be petters and strokers when he simply isn't in the mood to be petted or stroked.
Hangouts:  The balcony is a great place to hang out. Heineken is a very smart kitty who knows the secret passage to the patio that none of the other kitties can use so sometimes you'll find him snoozing in one of the patio chairs or on top of storage box. If visitors come he will often jump up on the wall to check them out and say hello. Another favourite place is just the other side of the gate where there's a great snoozing spot and where he can keep an eye on the neighbourhood goings on. Winter time favourite hangouts include the wicker basket, any of the big comfy fluffy perches on the magnificent West Coast Posts cat tree, on the bed right up against the pillows, or nuzzling and wrapping himself around his person's neck.
Favorite Things: Chicken, salmon, beef, or tuna juice on his food.  Heineken's all time favourite thing to do ever is to chase and play with his very own personal piece of string (this can only be done with someone else joining in of course, because string is far too easy for him to chew and swallow if left unsupervised.)  Heineken prefers not to share his string toy with any other kitty. At all. Ever.
Other Info: 
Heineken was adopted from the West Vancouver 
SPCA
about 10 years ago when he was quite a small kitty.  His name back then was Pilot, but since he's really my daughter's cat, she renamed him Heineken because she just happened to like the sound of it - and so did he.
His adopted older brother Frank "Frankie the Lovable Doofus" passed away just over 3 years ago and Heineken missed him so much. Luckily, he now has two adopted sisters, Bella and Francesca, and a new younger but much, much bigger brother, Forrest (previously profiled here.) All of them were adopted from VOKRA within the last 2 years, and Heineken is once again a very happy and contented kitty.
He looks like I looked in Amsterdam after a night of his namesake beverages: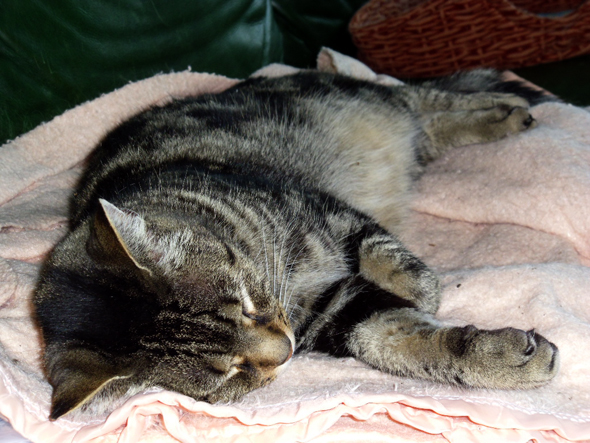 I'm not entirely convinced this kitty is ever awake to greet anyone: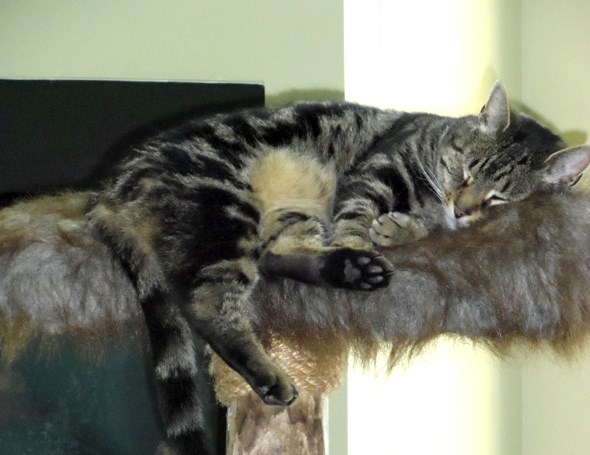 If you're interested in adopting a pet, check out our monthly Van City Kitty Take Us Home editions (most recently or here or here .)