A new kitty once a week! Click here to find out how your cat can appear on Van City Kitty.
Here are the deets on Ruby Soho as submitted by VIA reader : Emma!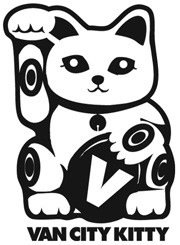 Name: Ruby Soho aka: Princess Kitty McGoo, The Mitty
...
Breed/Colouring: Balinese (A fluffy Siamese)
...
Hood: Commercial Drive
...
Habits:  Drinking from the tap (and out of the toilet if she gets the chance), playing with her NOISIEST toys when everybody is trying to sleep, and scooting her food bowl to different places around the house. She also enjoys claiming Emma's hubby's pillow after he leaves for work and sleeping with her nose touching Emma's. She has a bad habit of sleeping on her work-at-home Mum's, desk (and on top of her work!)
Hangouts: Under the duvet, on top of the fridge, on keyboards, on remotes, on phones, and on people's hands.
Favorite Things: Kitty toys with jingly bells inside them, going for walks in the garden/patio on her sparkly pink lead, stealing stuffed animals from the human son's bedroom to snuggle when he is at school.
Other Info: Ruby Soho came to us from the lovely folks at Homefinders Animal Rescue Society all the way from Smithers BC!  My son had spent his entire life wishing he could adopt a sad kitty from a shelter and shower it with love, but due to horrendous allergies hadn't been able to.  Turns out Balinese cats don't produce the protein in their saliva that causes the sneezies- who knew?!  So Ruby is the magical hypo-allergenic kitty has made my little guy's dream come true.
Allergen-free belly snuggling:
Fluffy little toy thief: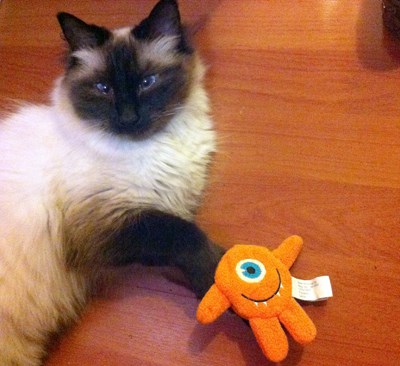 No work for you!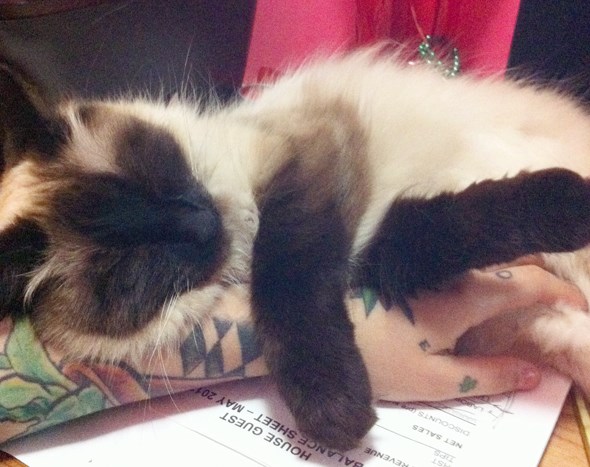 If you're interested in adopting a pet, check out our monthly Van City Kitty Take Us Home editions (most recently or here or here .)