A new kitty once a week! Click here to find out how your cat can appear on Van City Kitty. Meet Sawyer, submitted by VIA reader, Charlotte!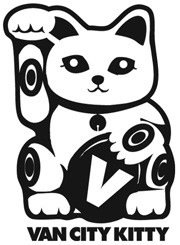 Name: Sawyer
Breed/Colouring: A tri-colour tabby
Hood: Renfrew-Collingwood
Habits: Sawyer doesn't understand the difference between people who don't like cats (in other words, people who are probably criminally insane and not to be trusted) and people who are allergic to cats - she has a knack for finding the
most allergic person in the room and making adorable efforts to win them over. She also likes watching hockey on TV so she can chase the players around.
Hangouts: Wherever her brother Zillah is. She is about half the size of Zillah, so Charlotte sometimes loses her, only to find her later hiding under a jacket.
Favorite Things: Hunting bugs, wrestling, rubbing noses, watching her brother's antics disapprovingly, and being carried kangaroo-style under Charlotte's dressing gown.
Other Info: "Zillah and his sister were adopted from VOKRA and it was the best decision I ever made!"
If you're interested in adopting a cat, check out our monthly Van City Kitty Take Us Home editions - last time was DIJON, click here to meet him!