A new kitty once a week! Click here to find out how your cat can appear on Van City Kitty.
Meet black panther cat Skinny Minnie, submitted by VIA reader Bailey Finden: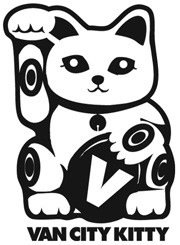 Name: Skinny Minnie
Breed/Colouring: Black Panther
Hood: Oakridge
Habits: Sleeping, hunting mice and giving them to my owners, sleeping, cuddle time.
Hangouts: My owner's bed, the computer chair, couch, and I love laying in bathtubs!
Other Info: My name may be Skinny but I am a cat of huge stature. Eating is my favorite hobby!
If you're interested in adopting a pet, check out our Happy Tails feature or our monthly Van City Kitty Take Us Home editions (most recently here or here.) If you adopted your pet from the SPCA and would like to share your awesome story on Happy Tails, send an email to Rory.Blanchard@novusnow.ca.