A new kitty twice a week! Yup, we want YOUR cat photos and stories! Click here to find out how your cat can appear on Van City Kitty.
This week's cat is a fluffy black ball of love, with a heartwarming story to boot. VIA reader Karen Fung believes that animals choose us. Here's why: Meet Toki!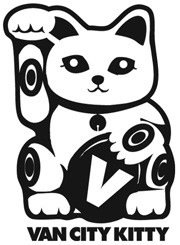 Name: Toki
Breed/Colouring: Cute and fluffy black cat
Hood: Kits
Habits: Eating nacho chips; lurking and pouncing from behind bathtub curtains; playing cat ninja; making Jetson car sounds just before laps around the apartment
Hangouts: Catnaps on my side of the couch or the forbidden boyfriend's computer chair or hiding in bathroom sink when she knows she's been naughty, i.e. sleeping in the forbidden chair
Other info: I really believe that we don't choose our pets, THEY choose us.
See why on Toki's television debut below!
Are you looking for a (or another) little furry beast to love? Please check out Happy Tails, our weekly segment featuring the BC SPCA and one of the animals they currently have available for adoption. (You may have noticed that many of the Van City Kitties came from the SPCA!) Check back every Saturday for a new Happy Tails segment!
And if you adopted your pet from the SPCA and would like to share your awesome story on Happy Tails, send an email to vancitykitty@vancouverisawesome.com or Rory.Blanchard@novusnow.ca.