A new kitty once a week! Click here to find out how your cat can appear on Van City Kitty. Meet Troon, submitted by VIA reader, Danielle!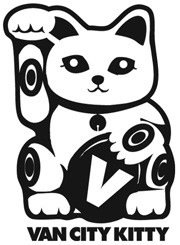 Name: Troon
Breed/Colouring: A Scottish fold, just like the undisputed star of Taylor Swift's Instagram.
Hood: North Vancouver
Habits: Cultivating a coat that is set to destroy your sensibilities and everything you thought you knew about
texture. Danielle tells me "his white fur feels like a baby bunny and his gray fur feels like broken glass and sandpaper."
Hangouts: On you. Cuddling. Throwing shade all day can get exhausting.
Favorite Things: Making you feel stupid and bacon.
Other Info: "Factoid: Scottish Folds primarily don't meow. He was once trapped in my neighbour's basement and would have been found much sooner if his meow didn't sound like someone with a bad cold clearing their throat." I'm a cat nerd and I totally didn't know that about Scottish Folds. Thanks Danielle!
If you're interested in adopting a cat, check out our monthly Van City Kitty Take Us Home editions - last time was SNAGGLETOOTH, click here to meet him!