This week, it is my pleasure to introduce you to Twitch, submitted by VIA reader, Christopher, who describes him as a "walking, meowing anti-depressant." I think we could use a little bit of that right now.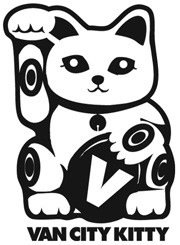 Name: Twitch
Breed/Colouring: A dapper little tuxedo with cheeky white boots. Take that, labour day.
Hood: Downtown living it up apartment-style.
Habits: "Battling the Roomba for control of the apartment. Nipping people's hands, but in a loving fashion. Giving paw bumps (I swear, I did not train him to do this!)"
Hangouts: The bathtub faucet, where his preferred water comes from.
Favorite Things: Catnip, home-grown on the windowsill. In return for such artisanal green, Twitch acts as Chris's alarm clock, and wakes him up every morning on time by jumping on his head. (I wonder if he adjusted for daylight savings.)
Other Info: "Much like me, he's a music fan! He likes to chill out to Music for Cats by David Teie, a record specifically designed to appeal to kitty sensory perception." Twitch was also adopted from the BCSPCA.
Would you like to introduce your cat to the world? Click here to find out how your cat can appear on Van City Kitty.
If you're interested in adopting a cat, check out our monthly Van City Kitty Take Us Home editions - last time was MOOGY click here to meet her!