A new kitty once a week! Click here to find out how your cat can appear on Van City Kitty.
Submitted by VIA reader Justine Kurek, meet scrumptious Siamese Vanilla: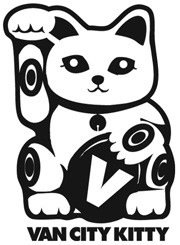 Name: Vanilla
Breed/Colouring: Siamese
Hood: English Bay
Habits: Cuddling my two mummies, attacking my mummies when I don't get enough cuddles, standing like a statue and staring at my two mummies in the eyes, chasing flies, seagulls and crows, breaking through the neighbour's apartments like a thief, playing with mummy's headbands, eating expensive rose bouquets, getting high on catnip and racing from one end of the apartment to the other, but still being cute most of the time...
Hangouts: The computer's keyboard, mommy's pillow, camping chairs, mommy's cashmere pullovers, drawers...
Other info:I was a born in Paris but I am proud to be a Van City kitty now!
If you're interested in adopting a pet, check out our Happy Tails feature or our monthly Van City Kitty Take Us Home editions (most recently here or here.) If you adopted your pet from the SPCA and would like to share your awesome story on Happy Tails, send an email to Rory.Blanchard@novusnow.ca.