A new kitty once a week! Click here to find out how your cat can appear on Van City Kitty.
Meet Zola, submitted by VIA reader, Sam!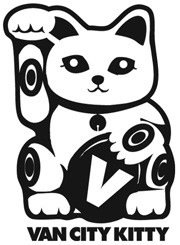 Name: Zola
Breed/Colouring: White belly, little tabby coloured pants, and arm bands with a very majestic brown beard.
Hood: Her apartment is her kingdom, and she's cool with that.
Habits: Threatening the crows outside, stalking the neighbours dog, using the leather chairs as scratching posts, sniffing all the feet that come through the door,
trying very hard to drink tap water but essentially taking a bath, absolutely despising leaving the house and hiding under whatever is near to avoid it.
Hangouts: Mostly hogging up one of the beds in the house or else shoving her face in whatever you are currently doing.
Favorite Things: Wet cat food (except the chicken type) and dental floss.
Other Info: She may be the only cat in the world that doesn't like laying in the sun.
If you're interested in adopting a cat, check out our monthly Van City Kitty Take Us Home editions - last time was MOOGY, click here to meet her!