Would you like a new life-long friend? You are in luck - approximately every month you get the treat of being introduced to a kitty (or two) who is looking for a home! Here are Mickey and Gerry, two inseparable cat friends from VOKRA!
Mickey and Gerry were once a part of a feral cat colony, full of (spayed and neutered) cats being fed and monitored by volunteers. The volunteers noticed that these two friends were becoming less feral as they were visited, and thought the comforts and companionship of a safe and real home might be preferable to these two - and they were very right. Once they get to know you, they love to cuddle and play. Like many cats with a bit of a wild past, they are not fans of being startled, or sudden noises, so they're probably not the best fit for very young kids, but with a quiet family with lots of love, these two will be your friends forever.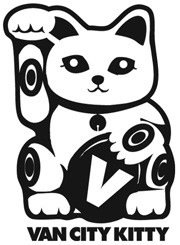 Vancouver Orphan Kitten Rescue Association (VOKRA) is a no-kill, non-profit, registered charity dedicated to the rescue of cats in the Lower Mainland that is run entirely by volunteers with no paid staff.
Instead of having a shelter, VOKRA provides over 300 individual foster homes which helps to protect the very young from colds, distemper, parasites and other transmissible illnesses. In a home environment, cats are safe and well socialized, with lots of love and attention.
VOKRA also has an extensive TNR program, which means they trap, spay/neuter, and work with community cats to control the homeless cat population.