Would you like a new life-long friend? You are in luck - approximately every month you get the treat of being introduced to a kitty who is looking for a home! Here's Moogy, a playful gal from VOKRA!
She's playful, she's kooky, curious and a beauty, all together it's Moogy, and she'll join your family. (Say to the tune of "The Addams Family" song and then take a moment to pretend what I did there was really cool, OK?) Moogy is a darling who is friendly, chipper, and loves to hang out with people and other kitties. Bonus - she can come with her quieter buddy, Cleo.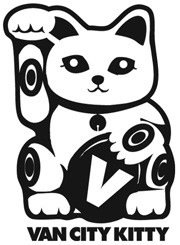 Vancouver Orphan Kitten Rescue Association (VOKRA) is a no-kill, non-profit, registered charity dedicated to the rescue of cats in the Lower Mainland that is run entirely by volunteers with no paid staff.
Instead of having a shelter, VOKRA provides over 300 individual foster homes which helps to protect the very young from colds, distemper, parasites and other transmissible illnesses. In a home environment, cats are safe and well socialized, with lots of love and attention.
VOKRA also has an extensive TNR program, which means they trap, spay/neuter, and work with community cats to control the homeless cat population.