Would you like a new life-long friend? You are in luck, dear readers - approximately every month you get the treat of being introduced to a kitty who is looking for a home! Here's Snaggletooth, a handsome character from VOKRA!
Behold, the next star of Instagram! This cat is one of the most beautiful creatures I've seen in my life, I would follow this cat, like all his photos, and even comment with various cat and heart icons shamelessly. Adopt him, make an account for him, and post photos of him on adventures and/or wearing various pieces of teeny clothing, please do this for me. Not only is he a stunning creature whose missing top canine tooth has graced him with a face so lovable I'm almost ready to adopt him myself, but he's also affectionate and will follow you around the house with that face and a million purrs, ready to distract you from doing pretty much anything productive.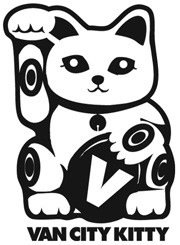 Vancouver Orphan Kitten Rescue Association (VOKRA) is a no-kill, non-profit, registered charity dedicated to the rescue of cats in the Lower Mainland that is run entirely by volunteers with no paid staff.
Instead of having a shelter, VOKRA provides over 300 individual foster homes which helps to protect the very young from colds, distemper, parasites and other transmissible illnesses. In a home environment, cats are
safe and well socialized, with lots of love and attention. VOKRA also has an extensive TNR program, which means they trap, spay/neuter, and work with community cats to control the homeless cat population.