A new kitty once a week! Click here to find out how your cat can appear on Van City Kitty.
Editor's note: It's time for me to move on from Van City Kitty, and as my last wish as editor I'd sure love for all of these lovely cats to find a forever home. Can you make it happen? Please spread the word! Every month we feature new cats needing homes in the Lower Mainland. Won't you consider opening your home and your heart? This month, we're pleased to present BUBBA HO-TEP, SIRAYANA and AZLAN, all via HomeFinders Animal Rescue Society.
HomeFinders Animal Rescue Society is a registered not-for-profit organization operating in the Greater Vancouver area of BC, established in 1998. We aim to help all animals, and in the process, educate the public and help control the animal overpopulation problem!
HomeFinders is a no-kill rescue, and we have limited space to take on new pets. A large focus of our rescue involves adopting animals from rural areas of Northern BC into new, loving homes in Vancouver. We care for cats, kitten, dogs, puppies, and rabbits.
Here are the deets on this month's batch of awesome adoptable cats!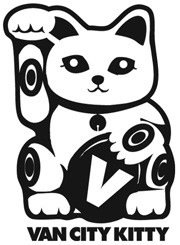 BUBBA HO-TEP
My name's Bubba and I am a HUGE big boy! I am all love and purrs and cuddles! I have had a really sad go of it lately, first my human died, and just recently my littermate and brother of 13 years passed away from kidney failure. The people here at HomeFinders tell me that I am in superb health, even though I could stand to lose a few pounds! ;)
I know there's someone out there who wants to bring me home! I love other cats and would do best in a multi cat household. I dont really like dogs so much, so I wouldn't like to live with them. I am 13, and don't have any front claws, so I need a very safe place to live. ADOPT BUBBA.
SIRAYANA
Sirayana is a gorgeous friendly young girl, who flew down from Terrace with her babies to go up for adoption! So far, she is nervous with other cats and dogs, but very loving with people. She is also hormonal and in a new environment.. so this could change for the better and probably will in time :) Sirayana has extra toes on each foot - which sailors viewed as good luck in ye olden days! ADOPT SIRAYANA.
AZLAN
You may recall Azlan from a previous Take Us Home Edition - he's such a great boy in desperate need of a loving home that we thought we'd feature him again - this time with all his fur!
Azlan is a sweet boy, he probably around 10 years old. He was living behind a bar on Main St. He loves to purr, and he has such a cool look to him, thus his name Azlan, he looks like a miniature lion! Azlan is missing one eye and is hyperthyroid, which means he has an overactive thyroid gland. He is currently on an oral medication for his thyroid and doing very well. For a new family, Azlan's expenses would be periodic blood work to check on his thyroid. Other than that he is a normal kitty and will do great in any home! He loves people, is OK with calm dogs and doesn't really like other cats, but can deal with them if they don't harass him. We would also consider a long term foster for Azlan, in which case we would continue to support his veterinary needs! ADOPT AZLAN.
If you're interested in adopting a pet, check out our Happy Tails feature or our monthly Van City Kitty Take Us Home editions (most recently here or here.)
If you adopted your pet from the SPCA and would like to share your awesome story on Happy Tails, send an email to Rory.Blanchard@novusnow.ca.