A new kitty once a week! Click here to find out how your cat can appear on Van City Kitty.
Van City Kitty Easter/Passover Weekend Public Service Announcement: Many plants that are popular this time of year are toxic to cats, including lilies and chrysanthymums. Please check out VOKRA's article on lilies and the ASPCA's list of plants that are toxic to cats. Please also spread the word to your cat-loving friends.
Every month we feature new cats needing homes in the Lower Mainland. Won't you consider opening your home and your heart? This month, we're pleased to present HY, PEANUT, NATALIE and BIANCA, all from the Vancouver Orphan Kitten Rescue Association (VOKRA).
Vancouver Orphan Kitten Rescue Association (VOKRA) is a no-kill, non-profit, registered charity dedicated to the rescue of cats in the Lower Mainland. They also coordinate rescue work with other groups in BC.
VOKRA does not have a shelter. Instead, they provide over 100 individual foster homes throughout the Lower Mainland. In addition to kitten rescue, another crucial part of VOKRA's work is their trap/neuter/release program. VOKRA operates entirely with volunteers, donations, and grants.
Here are the deets on this month's batch of awesome adoptable cats!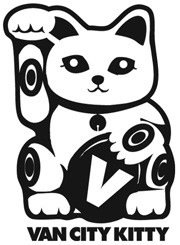 HY
Hy is a nice lady cat. She came from a woman who wasn't able to take care of her anymore, so she is a tame cat. As soon as she got used to her new surroundings, she was right at home. She's not too snugly, she usually just gives a couple head-butts and lies down somewhere nearby. She seems content just to be in the same room as her people most of the time. She has long hair so she will need to be brushed to stay beautiful. 4 years old. ADOPT HY.
PEANUT
Peanut is an absolute delight! He is open to being picked up but prefers to jump into your lap at his leisure. Peanut is a somewhat independent and shy cat who enjoys watching birds through a window while perched on a window ledge or lounging in his cat bed. He is extremely calm and well-behaved, and enjoys running about for brief periods, usually just once a day. Peanut generally sleeps through the night. If he does wake up, he creeps about quietly and will rarely, if ever, disturb you except to snuggle on your bed with you. Peanut needs a loving home with no cats, no dogs, and no kids - is that your home? 4 years old. ADOPT PEANUT.
NATALIE
Natalie is a young energetic female cat. Her very short and shiny black fur and her large golden eyes really make her look like a little panther.
Natalie was found on the streets in Burnaby, but it is clear she used to be someone's pet. Natalie likes to cuddle. She likes to watch TV on the couch, sit on a lap when someone's at the computer and spends most of the night in bed with her foster parents. She also doesn't mind being picked up and gets quite talkative when hungry or wanting attention.
She might get along with the right other cat, but right now she is being kept with another foster cat who doesn't really like her, so there is a bit of tension between them. Natalie plays a little rough and sometimes bites when annoyed, so she would need to go to a home without children. 3 years old. ADOPT NATALIE.
BIANCA
She has grown into a spectacular beauty, but she is no princess. She is a determined little tomboy, who can easily match her three brothers in spirit and stamina. For a while, she was the shyest of the four, but she has come so very, very far. Bianca enjoys wrestling, toys, tummy rubs, hide and seek, and her nice warm window ledge. She needs a buddy, and would love to be adopted with any of her foster sisters BLOSSOM, SACHI, SHISAN or another kitten of a similar age and temperament. She is still a little wary and needs a family that will have the time and patience for her to fit in. 1 year old. ADOPT BIANCA.
If you're interested in adopting a pet, check out our Happy Tails feature or our monthly Van City Kitty Take Us Home editions (most recently here or here.)
If you adopted your pet from the SPCA and would like to share your awesome story on Happy Tails, send an email to Rory.Blanchard@novusnow.ca.