A new kitty once a week! Click here to find out how your cat can appear on Van City Kitty.
UPDATE: LAURALIE has been adopted!
Every month we feature new cats needing homes in the Lower Mainland. Won't you consider opening your home and your heart? This month, we're pleased to present Lauralie, Tash and Timothy, all from the Vancouver Orphan Kitten Rescue Association (VOKRA).
Vancouver Orphan Kitten Rescue Association (VOKRA) is a no-kill, non-profit, registered charity dedicated to the rescue of cats in the Lower Mainland. They also coordinate rescue work with other groups in BC.
VOKRA does not have a shelter. Instead, they provide over 100 individual foster homes throughout the Lower Mainland. In addition to kitten rescue, another crucial part of VOKRA's work is their trap/neuter/release program. VOKRA operates entirely with volunteers, donations, and grants.
VOKRA is also having a gala benefit fundraiser this Sunday, Feb. 26 called "Oscars @ The Morrissey," which is a good way to support the kitties if you're unable to foster or adopt.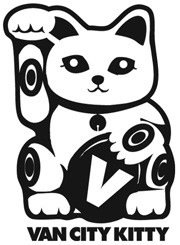 Lauralie: is such a pretty calico cat. She is quiet, low-maintenance, fully-litter-trained. Nutshell, she is very easy to live with. She has the cutest voice, but she rarely mews. Instead, she coos when she wants to play with you. Oh, yes! She loves playing!! Crumpling paper and a string are her favourite toys. She often entertains you with acrobatic jumps. Although she enjoys being around you and watching you paddling around, she doesn't like to be cuddled so much. She has lived with other cats, but it didn't work very well. She will be happier if she is your only cat. 2 years old. LAURALIE HAS BEEN ADOPTED.
Tash: is a beautiful all-white, long haired cat. Her owner passed away and she is hoping to find a new forever home. She is very loving yet independent and enjoys having time on her own to explore or sunbathe in a bright window. She gets along with small dogs. She is in perfect health! She's very clean but requires a bit of brushing occasionally because of her beautiful long hair. Her foster home says she is sweet and gentle. She doesn't like to be cuddled but will join you on the couch to watch a movie and sleep at the foot of the bed. 12 years old.
Timothy and his friend Mickey Mouse: Timothy was originally trapped outside a rest home when he was under a year old. People had been feeding the cats and allowed many litters to be born before VOKRA was called. Luckily, Timothy survived out on his own. Timothy needs a place with no stairs as he has bad back legs. He is friendly once he knows you and would love to sleep on your bed! As much as Timothy likes to mooch treats, he is cautious of strangers. With the right home and care, he will quickly grow out of this behaviour. Timothy needs a quiet home with no children where his needs are respected. He is a special guy who must be adopted with his buddy MICKEY MOUSE. 5 years old.
Adopt Timothy and Mickey Mouse.
If you're interested in adopting a pet, check out our Happy Tails feature or our monthly Van City Kitty Take Us Home editions (most recently here or here.)
If you adopted your pet from the SPCA and would like to share your awesome story on Happy Tails, send an email to Rory.Blanchard@novusnow.ca.
Expand the post to see more photos of these lovely cats.