A new kitty once a week! Click here to find out how your cat can appear on Van City Kitty.
Every month we feature a few kitties who are looking for their forever home.  Here are this month's lovely felines from Katie's Place!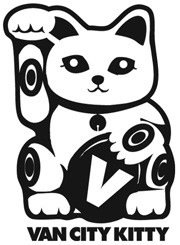 Katie's Place is a volunteer-run no-kill animal shelter in Maple Ridge. Two principals guide them: all life is valuable, and we are responsible for improving the quality of life for all those in our care. They make no judgment on whose life is worth rescuing; the sick, elderly and homely are as precious as the healthy, young and attractive. Katie's Place started helping animals in January of 2001 and became a registered charity in 2005.  Katie's Place funding comes entirely from donations, fundraising and applying for grants. The funds go directly to animal care. Less than 3% is spent on admin/maintenance (eg. phone, bank charges, insurance). They are entirely volunteer run.Learn more about Katie's Place here
GENTRY & MONTGOMERY
Gentry is an attentive and inquisitive cat who wants to meet everyone who visits his room. He longs to be loved and will leap into your arms or lap with no hesitation, purring all the while. Both Gentry and his kitty pal Montgomery are super sweet, friendly guys who aren't shy about letting you know they're looking for love. They want to be in your arms where they can cuddle and nuzzle to their hearts' content. Because Gentry and Montgomery are bonded they must be adopted together. Looking for two lovely cats you can shower with affection? You've got to meet these boys. We dare you not to fall in love.
Adopt Gentry and Montgomery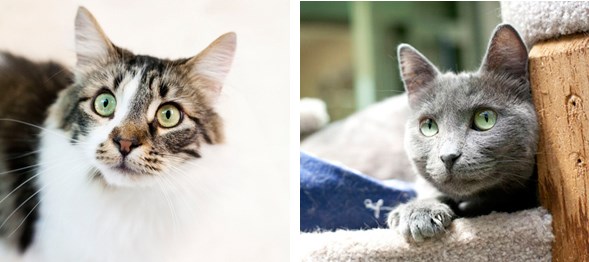 TWILIGHT
Twilight was found homeless and taken into shelter care while still less than a year old. Upon arrival at Katie's Place she immediately became a quiet, well-behaved resident in her communal room, trying to stay out of the way. After a few weeks, she was coming up to her caretakers with a cheerful greeting and asking for attention. She's a spirited young cat who is friendly and responsive and she values a relationship with humans. She wants affection and she wants to make friends; it would be easier for her in a real home. At the shelter she enjoys spending time with people once she knows and trusts them; she enjoys a snuggle on her own terms. Twilight would be a devoted little feline friend. 3 years old.
Adopt Twilight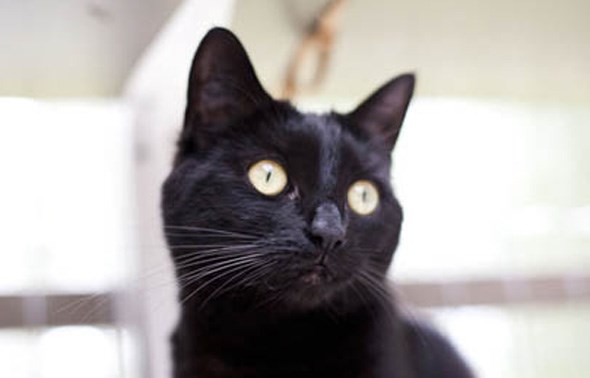 BUBBLES
Bubbles is a strikingly beautiful cat with a luxuriant white coat. Bubbles is a beautiful and affectionate cat who seemed to settle in the new environment of the shelter very graciously. Once she was released into the communal room from her new-cat cage, she settled in quickly and was soon greeting volunteers at the door and asking for pets. Her extravagant coat will need some upkeep. She'll need regular brushing and she may need some help to keep her bloomers spotless. A lovely little lady such as Bubbles is certainly worth the time and she'll reward you many times over with her love and companionship. She would prefer not to live with dogs.  8 Years old.
Adopt Bubbles