A new kitty once a week! Click here to find out how your cat can appear on Van City Kitty.
Here are the deets on Ziggy, submitted by VIA reader Leah K: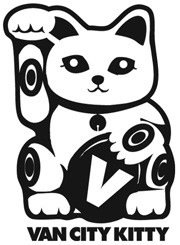 Name: Ziggy Stardust
Breed/Colouring: Flame Point Siamese
Hood: Cedar Cottage - East Van
Habits:Adopted at 9 months after spending a good portion of his kittenhood in a Northern BC shelter, Ziggy now resides in a cozy apartment in East Vancouver. He's very social and loves meeting new people and other animals. With his constant need to be the center of attention, Ziggy can often be found wandering around announcing his actions in loud Siamese yowls and trilling sounds. He is also known to enjoy the odd car ride and chewing on sparkly sequin garments.
If you're interested in adopting a pet, check out our Happy Tails feature or our monthly Van City Kitty Take Us Home editions (most recently here or here.)
If you adopted your pet from the SPCA and would like to share your awesome story on Happy Tails, send an email to Rory.Blanchard@novusnow.ca.