If you've been following the news this week you know that the Zika virus is causing a big stir and. The World Health Organization says that 23 countries have now reported infections, and it could ultimately end up affecting 4 million people. They know that it's spread by a certain type of mosquito, one that doesn't live in Vancouver (phewf!), so most of the experts are saying we're safe. No need to be alarmed, but others are saying that it could possibly find ways of spreading in the future.
The Province published this timely story today about how Metro Vancouver spent $88,654 in 2015 on what is called the Nuisance Mosquito Control Program. Culex Environmental, the company that carries out the control program, employs a number of methods. One is a natural method approach where they look at the big picture and try to create a healthy ecosystem where there's not a ton of room for excess mosquitos to breed. Another is the application of environmentally friendly bacterial larvicides on specific areas where the insects breed. They evenly distribute the stuff by hand, by blower, and sometimes by helicopter
All of this got me thinking back to a post that I did way back in 2009 when the Vancouver Park Board pulled up in a truck outside the place I was living in Mount Pleasant. Towed behind their signature white truck was what appeared to be a snow blower.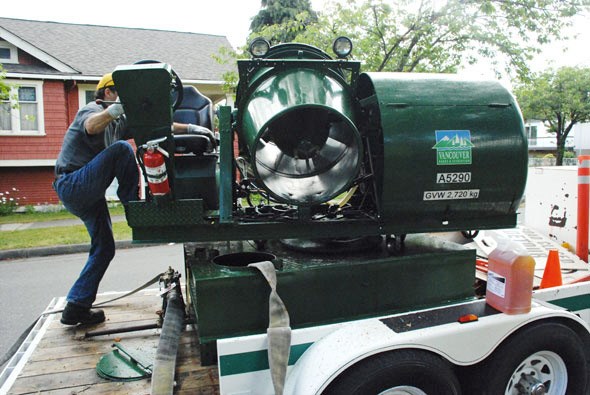 Two people got out of the truck and one opened up the fire hydrant on the corner while the other tended to the odd machine.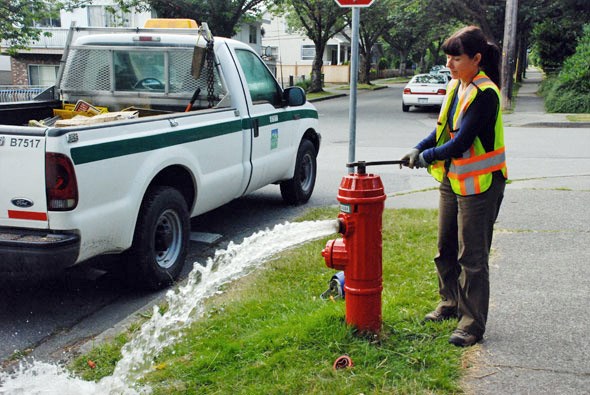 They filled a large tank on the thing with water from the hydrant along with an insecticidal soap.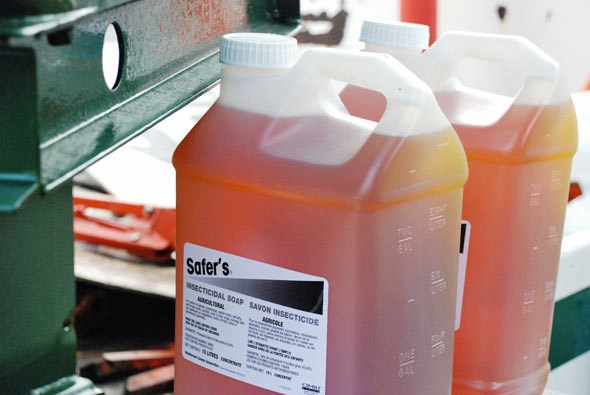 The guy then got into the "pilot's seat" of the thing and started spraying up into the trees.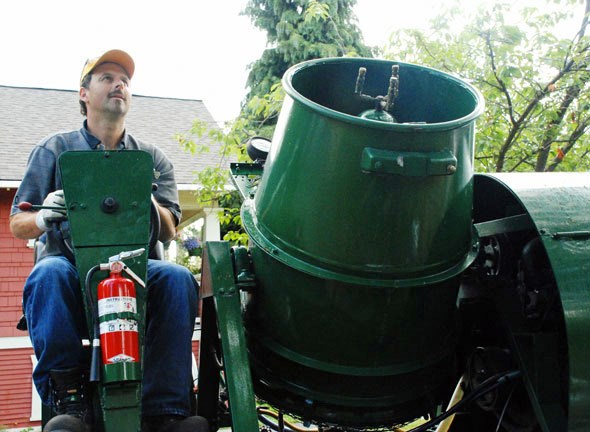 The thing is a converted snow making machine, not unlike the ones you'll see on the local hills when there's not enough of the white stuff. They've turned it into a pest control device, spraying that soap up into the trees where a type of aphid makes its home. If you've lived on a side street in Vancouver and have parked out there you're familiar with a sort of sappy, sticky stuff that gets onto your car. That's not sap from the trees; it's aphid poop. The Park Board helps mitigate the effects of this gunk by employing this weird machine every year.
So, should the Zika virus make it's way up here, it would only make sense that that they'd call in the big guns and get this thing revving with larvicide all over Metro Vancouver.