The Vancouver Canucks were in good spirits at their practice on Monday, their first under new head coach Bruce Boudreau. Before anyone reads too much into the team's joie de vivre, the Canucks were all smiles in many of their practices this year under Travis Green, attempting to stay positive despite their struggles.
It's tough to remain optimistic when you start the season the way the Canucks have. Their 8-15-2 record through 25 games has them in dead last in the Pacific Division and ahead of only the tanking Arizona Coyotes in the Western Conference.
This is a team that fully believed heading into the season that they were a playoff team but getting back into playoff contention now seems nigh-impossible.
Still, the Canucks players might have good reason to be feeling good about the arrival of Boudreau. Perhaps they believe that Boudreau is the right coach to get the most out of them and take them from the league's basement to the playoffs.
After all, he's done it before.
The 2007-08 Washington Capitals
Boudreau has been tremendously successful wherever he's gone in the NHL — well, everywhere except for the playoffs, but that's another topic. In the regular season, his teams have a combined record of 567-301-115, which is remarkably good. He has coached his teams to eight divisional titles and won the Presidents' Trophy with the Washington Capitals in 2010.
Arguably his greatest feat, however, came in his very first season as a head coach in the NHL.
The Capitals got off to an atrocious start to the 2007-08 season, with a dismal 6-14-1 record that got head coach Glen Hanlon fired. He was replaced by Boudreau, who was promoted from the Hershey Bears, the Capitals' AHL affiliate, as interim head coach.
When Boudreau joined the Capitals, they were dead last in the NHL, four points behind the next-worst team.
The Capitals finished the season in first place in the Southeast Division.
Sure, that was only good for 12th place in the NHL, as the Southeast was a weaker division, but it was still an astonishing turnaround. The Capitals went 37-17-7 under Boudreau to storm up the standings and get to the playoffs for the first time in five years.
The Capitals' 6-14-1 record when Boudreau was hired as coach was a points percentage of .310. The Canucks' current 8-15-2 is a points percentage of .360.
In other words, the Canucks are arguably in a better position now than the Capitals were when Boudreau took over.
The Capitals' 37-17-7 record translates to a .664 points percentage. Over the Canucks' remaining 57 games, a .664 points percentage would give them 76 points, for a total of 94 points. The average bar for the playoffs in the Western Conference in the last five full seasons was 93 points.
Hm.
Most new coaches don't make as significant a change as Boudreau made in Washington. In fact, when Boudreau joined the Anaheim Ducks in a similar situation in the 2011-12 season, he couldn't repeat the feat. The Ducks had a winning record under Boudreau that season but he couldn't get them even close to the playoffs.
Still, it's tempting to wonder if Boudreau can do it for the Canucks.
"Right now, we just want to get playing better."
When he meet the media on Monday afternoon, however, Boudreau didn't want his players to look too far ahead. Instead, he's focusing on smaller chunks of the schedule.
"If we can win two out of three and then you win two out of three and then you win two out of three," said Boudreau, "then all of a sudden you look up in January, and you go, 'Hey, we're only four points out,' then all of a sudden you can start looking at it.
"But if you say 'Hey, we have to win 12 in a row,' that's a pretty daunting task, so I try to stay away from the big things and try to make it all a more palatable sort of thing that they can buy into and say 'Hey, all we have to do is play good tonight and let's worry about tomorrow tomorrow.'"
A theme of the press conference was tackling smaller pieces, whether it was introducing small changes to the system one practice at a time or talking to individual players to pick their brains and find out what makes them tick. He applies that to the overall goal of improving the Canucks.
"You take care of the smaller steps and the bigger steps will take care of themselves," said Boudreau. "Right now, we just want to get playing better."
As for the challenge of turning the team around in a hurry, Boudreau is focusing on this being a fresh start.
"I always think of it as like a golf game, where you can have a brutal front nine but then it's over," he said. "And then you start over on the back nine, you got a do over, it's like a new game…I'm not going to look at somebody and say geez, you weren't very good for the first 15 games, so you're not going to get a chance to play."
What changed for the 2007-08 Capitals?
Is a turnaround like that of the Capitals possible? Certainly. Is it probable? Definitely not. But we can look at whether the two teams have anything in common.
That doesn't necessarily mean asking whether the two teams have similar personnel. The Canucks obviously don't have Alex Ovechkin, who scored 65 goals and 112 points in the 2007-08 season but maybe they can make up for him in the aggregate, as he didn't have a lot of scoring support.
The defence seems somewhat similar — the 2007-08 Capitals didn't exactly have a murderer's row on defence but they did have a dynamic young defenceman by the name of Mike Green, so you can draw a parallel to Quinn Hughes if you like.
But how do the Canucks compare in the underlying numbers?
I took the 2007-08 Capitals and looked at five statistics from Natural Stat Trick before and after Boudreau took over as coach: corsi, shots on goal, goals, expected goals, and high-danger chances, all as percentages. Anything above 50% indicates that the team out-shot, out-scored, or out-chanced their opponents at 5-on-5.
I compared those numbers to the current Canucks.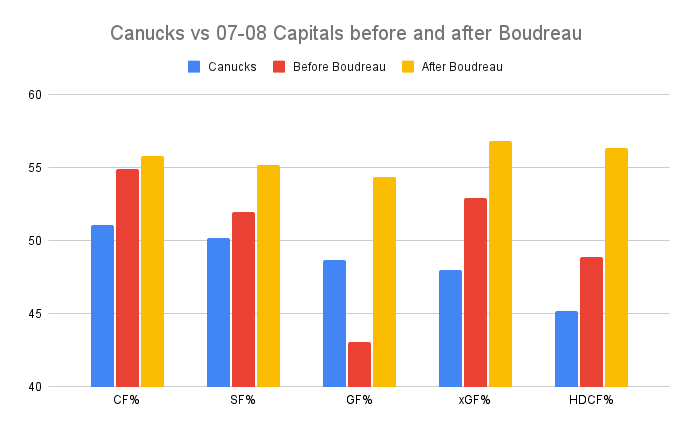 The biggest improvement the Capitals made was in their goal-scoring, but that's an effect, not a cause. The more interesting improvements are elsewhere.
The Capitals were already a strong puck possession team when Boudreau took over, with a 54.9% corsi. They were regularly out-shooting their opponents and the more advanced metric, expected goals, suggests they should have been out-scoring them too.
Where the Capitals were struggling, however, was in high-danger chances: shots from the home plate area and off the rush. They had a 48.9% share of high-danger chances: they struggled to create dangerous chances and gave up too many in return.
That's also the area where the Capitals under Boudreau made the biggest improvement, going from 48.9% before Boudreau to 56.3% after Boudreau.
The Canucks' biggest 5-on-5 issue is high-danger chances
That's intriguing because that's the biggest area where the Canucks struggle. They are above 50% in corsi and shots on goal, but below in expected goals and even worse in high-danger chances. They have a 45.2% share of high-danger chances at 5-on-5, which is near the bottom of the NHL: they struggle to both create and prevent high-danger chances.
If the Canucks can have a similar course correction in high-danger chances as the 2007-08 Capitals did, that would go a long way towards fixing their biggest issue at 5-on-5.
Boudreau is known more as an offensive coach but it should be noted that the Capitals improved in both high-danger chances for and against.
"I don't understand why you can't be a great offensive team and a great defensive team at the same time," said Boudreau. "When you have the puck, we're going. When you don't have the puck, we're checking to get the puck back."
The Canucks' penalty kill: "Not very good, is it?"
Combine an improvement at 5-on-5 with hopefully a similar improvement on special teams, maybe the improbable becomes a little more likely. Boudreau noted that Scott Walker, joining him as an assistant coach in Vancouver, will take over the penalty kill.
"He's very good at it," said Boudreau of Walker's coaching on the penalty kill. "When we were at our Team Canada meetings last week, I was so impressed with what he was doing. And I thought, 'Okay, this guy would be great.'"
For what it's worth, the 2007-08 Capitals had a 14.6% power play before Boudreau and a 20.4% power play under Boudreau. Similarly, the penalty kill went from 78.2% to 81.5%.
The Canucks have a slightly tougher hill to climb with the penalty kill, at a historically bad 64.6%.
"Not very good, is it?" quipped Boudreau when this number was brought up. "I think it's a big reason why they haven't had as much success as they'd like to."
"Fine and dandy"
Let's be frank: it's exceedingly unlikely that the Canucks can go on a run like the 2007-08 Capitals. Their struggles with high-danger chances may be similar but they're starting from a significantly worse place in every single statistic at 5-on-5 than the Capitals were except for goals.
Still, Boudreau brings a little more optimism to a club badly in need of positivity. Maybe the playoffs are out of reach but the Canucks can still take positive steps.
"You'd really like to make it a winning team from here on in and to get the guys happy, to get the fanbase happy again with them winning," said Boudreau. "We just don't want things to continue the way they were continuing.
"And if it ends up getting into a playoff spot, fine and dandy."